30th, 40th and 50th Birthday Parties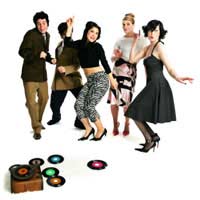 Milestone birthdays should never pass by un-celebrated! It's not just 18ths and 21sts that deserve the proverbial pushing out of the boat - go full on and fabulous for thirty forty and fifty too!
Themed parties ensure a talking point and get everyone involved – plus, they're damned good fun! For 30, 40 or 50, think about any of the following themes:
Retro Party
What best sums up 'retro' for the guest of honour? How about...
A 1960s flower-power party
A 'summer of love' party
Anarchy in the UK punk or glam rock party
This is Your Life!
Remember Eamonn Andrews and the Big Red Book? 'This is Your Life'style parties can be as fun to organise as to attend!The book will be the centre piece of your party, and not just for the guest of honour - everyone will be wanting to get a good look at it. Make it as interesting as possible with a huge range of mementoes. You could consider putting in:
Photos from birth to the present day
Handwritten anecdotes and memories from friends and family
Newspaper headlines from the year of their birth
Pictures of celebrities who share their birthday
A CD or DVD with video/voice messages from people who couldn't attend the party
A soundtrack of their life (song that was at number one when they were born, the song they had their first dance to at their wedding etc.)

Blasts From The Past or Old School Tie Party!

Think Friends Reunited and track down long lost pals, work colleagues and school friends as surprise party guests.
For an Old School Tie or School Disco theme, insist on school uniform fancy dress and school dinner type food. Decorate the room with old school pictures and enlarged photocopied extracts from school reports. Have a 'graffiti' wall (huge rolls of white paper) where guests can scrawl birthday messages. And don't forget to restrict smoking and other forbidden goings-on to the bikes sheds!
Over the Hill!
If you think they can take it, why not throw an Over the Hill party?!
Have a golden oldie disco and decorate the party room with black and white pictures or old movie stills. Encourage fancy dress (think housecoats and old fashioned pinnies for the ladies and high waisted trousers, braces and slippers for the men!) or lay on bald wigs and comedy false teeth for guests to wear. Ask the guests to bring joke presents, these could include:
False teeth cleaner
Walking sticks
Hair restorer
Wrinkle cream
Make up a fun buffet table with nibbles labelled up as medication for ailments associated with getting older – think varicose veins, forgetfulness etc.
Fabulous 50s!
Celebrate a fiftieth birthday in style with a 1950s themed party!You could go for either:
Sophistication - think cocktails, champagne, canapés and luxurious nibbles and a Breakfast at Tiffany's style theme

Or

Fun - a Grease style party with Pink Ladies, Teddy Boys and an American diner type décor and buffet!
Other Milestone Ideas
'Big' birthdays don't have to be celebrated with a huge party of course, and not everyone would want to mark their special day with a huge do. For more intimate, smaller gatherings, you could consider:
A casino night
A murder mystery evening/weekend
A spa break
A riverboat shuffle
Hot-air balloon champagne flight
The key is to organise an event the birthday boy/girl will really appreciate and enjoy – you could even ask way in advance what their dream 'money no object' celebration would be, and adapt their wishes into something cost effective and workable. With the right planning and organisation, everyone's 30th, 40th, 50th (and beyond) can be a real night to remember!
You might also like...