Hosting a Barbecue Party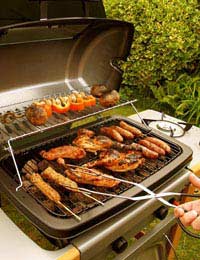 The sun is out, the sky is blue - it's time to have a barbecue! A barbecue is the only way to entertain in the summer - and what's more, you don't need to be a professional chef to rustle up a tasty feast!
Equipment
You can really spend as little or as much as you want on barbecue equipment, but there's probably no point in rushing out and parting with a couple of hundred quid for your first party! Start off with a cheaper model to see how you get on and to assess how much use you think you'll get out of it.
Generally, barbecues fall into the following categorises:
Deluxe multi burners which run on gas
Firehouse or chimney style burners or fire pits
Charcoal or smoker barbecue which run on charcoal or woodchips
Kettle barbecues - multi-purpose BBQs with a lid
Instant disposable single use barbecues
Accessories
You'll need gas canisters (if applicable for your type of barbie), charcoal and cooking tools, such as spatulas, tongs, basting brushes, grill brushes, branding irons and skewers. It's also a good idea to invest in a set of melamine plates, bowls and cups to save your best crockery ending up in pieces on the patio. And don't forget the matches!
Shopping List
Contrary to popular belief, barbecues aren't just about spare ribs, sausages and burgers. Fish, chicken and even vegetables can be barbecued, and with different marinades and coatings (like honey, or sweet and sour) you can ring the changes and add a zing to even the most boring chicken breasts. Along with meats and fish steaks, add bags of salad, corn on the cob, coleslaw and dips to your shopping list. And don't forget your vegetarian party guests - try barbecuing vegetables such as diced peppers and courgettes with whole cherry tomatoes on skewers for veggies. And along side the bottles of beer and cola, serve cocktails or soft fruit drinks from hollowed out pineapples or coconuts for a totally tropical taste.
Decorations
Make your barbecue party go with a swing by decorating your garden and patio with a sizzling summer theme. Hawaiian decorations are easy to come by at party shops, and a few strategically placed fake palm trees, fairy lights and flower garlands give a real tropical feel which is perfect for an outdoor do. Many party shops now stock 'scene setters' which add brilliant backdrops to themed parties. If you are planning your barbie to coincide with a sporting event, like a football match, rugby or even Wimbledon, decorate accordingly with streamers in your teams colours laced through your trees, or serve appropriate drinks or desserts (like Pimms and strawberries and cream for a Wimbledon inspired barbie).
Guest List
Barbies appeal to people of all ages, and outdoor entertaining does not have the pressures and social dilemmas of a dinner party setting, so feel free to mix and match friends and family, children and OAPs! Guests always ask if they can bring something - don't feel shy about saying yes! Barbecuing is a really social activity, and brings out the cook in the most unexpected people with men in particular liking to take charge of the grill! By encouraging guests to bring their choice or meat or fish, you can lay on a real 'pot luck' style feast and everyone can play a part in the preparation and cooking.
Keeping Your Guests entertained
Designate part of the garden furthest away from the cooking area for games and entertainment - this is particularly important if there are children present. Limbo games and hula competitions are always a real laugh for young and old guests alike, as are garden boules and skittles. Keep a stash of mini footballs, soft tennis balls and rackets for children to knock about with. If you think your neighbours could bear it, you could have a karaoke session too!
Safety First
Barbecues are potentially very dangerous! Keep children, pets and anyone not involved in the food preparation well away from the cooking area, especially when the coals are heating up and cooling down. Practice good hygiene and make sure all food is properly cooked - pre-cook indoors and finish off on the barbie if necessary. And keep a bucket of water close to the barbecue - just in case!
You might also like...