Planning & Hosting Bridal Showers and Hen Parties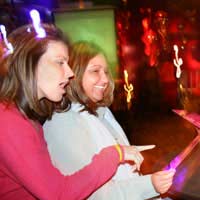 Hen parties do not have to be all L plates and greying veils at the local night-club! Long gone are the days when the 'hen' or (bride-to-be) is thought to be giving up her life of fun and frolics to be chained to the kitchen sink so with that in mind, a hen party should be a proper celebration rather than a 'last supper' type of affair!
These days, hen parties are just as likely to last entire weekends rather than just an evening, with many wives-in-waiting choosing to celebrate with weekend breaks in cosmopolitan cities, or even whole weeks away in the sun prior to their nuptials.
Guest List
This is a strictly girls only event, and the guest list should be all encompassing, from grandmother down to god-daughter (venue and entertainment permitting!) but take care to invite only those guests the bride-to-be really wants to see - the whole of her sixth form seem like a grand idea, but if 50% of them dated her future husband, she may not be quite so impressed!
Invites do not have to be professionally printed - copies of childhood and teenage photos make the perfect backdrop for party invitations and a picture of the guest of honour - particularly if it's a childhood or old bridesmaid shot - printed on good quality card with an amusing caption will make an excellent invite. The same could be done with scanned images for email or e-invites.
Where to Go
The world really is your oyster, with most hotels, spas and leisure parks recognising the importance of pre-wedding parties. Depending on the budget, ages and likes and dislikes of your party, you could consider:
A spa or health club weekend
A city break - think London, Paris, Amsterdam, Bruges or Prague
A theatre and restaurant night
An at-home party with chick flicks, nibbles and vino
A party and entertainment which focuses on the brides interests
A night out in her home town, visiting old haunts
Or of course, the reliable old local restaurant and night-club combo!
The above are, obviously, just suggestions, and any number of venues/types of party could be just as applicable to the lady in question, but making it personal to her and her background, hobbies and interests is paramount.
Novelties
The L plates and veil will not be for everyone - neither will the stripper, saucy wedding night gifts or other risqué novelties or entertainment! Unless you know the recipient (and the rest of the party!) will really appreciate the bumper gift pack from Ann Summers, it's probably best to avoid it!
Food
If you are hosting the party at someone's house, or a venue where you can arrange the catering, you can go to town with luxurious nibbles - if the hen is a chocoholic, you can serve chocolate based liqueurs, have a chocolate fountain to dip fruits and marshmallows in, and wonderful chocolate party cakes. If Oriental or Asian food is her thing, you could lay on a sumptuous buffet, either home made or delivered from your local restaurant. If you are having the party at a hotel or restaurant talk through your likes and dislikes with the catering staff - most establishments will accommodate favourite dishes or make special alterations to the menu for large parties.
Gifts
A modern day hen party should be a celebration of what exciting times the future holds, rather than the 'last fling' or 'last night of freedom' attitudes of old. It's important for the hen to feel she isn't being set adrift into a life of domestic drudgery and wify-ness, rather embracing a new phase in her life where her friends and outside interests will still be just as important to her. With that in mind, sending her down the aisle with a packet of Marigolds and a pan scrubber isn't going to win you any Brownie points!
Treat your bride-to-be with luxurious bath or body products, a voucher for a pre-wedding pampering session, or a gift certificate for an upmarket lingerie store - anything that will make her feel a million dollars on her big day. Framed photos and mementoes from 'historic' nights out with the girls and souvenirs from girly holidays and trips will also make wonderful keepsakes - as long as she is not made to feel they are parting gifts!
Entertainment
If you are hosting a do at home, you could hire an aromatherapist or beautician to lay on massages and make-overs for a really girly pampering session. Henna tattooists and nail art technicians are also really popular for all-female groups. For more family-focused events, how about dragging the old cine films and slides out of the lofts for a potted history of the guest of honour, from birth to bridal shower? Or a This is Your Life style presentation, complete with big red book?
And if none of that floats her boat - there's always the stripper!
You might also like...