Christmas Parties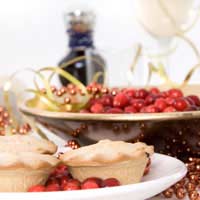 Christmas comes but once a year so here's how to make sure your festive bash is talked about for the next twelve months!
Who's on the Guest List?
Firstly, you need to decide what sort of party you want to throw and who it is for. If it's strictly for adults and an evening do, then a Christmas cocktail party with dinky canapés will be your best bet. A mixed group of family and friends will probably include little people as well, so a traditional festive bash with a heaving buffet table and silly party games is the way to go. If you are really out to impress, you could consider hiring party organisers and caterers to arrange the whole event for you – but be warned - as well as taking off the pressure, it'll also take away all the pre-party fun (not to mention clearing out the Christmas fund!)
Invites
Let your guests know about your party as far in advance as possible – people get booked up very early in December, so sending out your invites in November might seem a bit premature but will ensure it's your bash that gets first dibs on the calendar!
Festive Food
Once all your RSVPs are in, you can plan your catering. You could either theme your food, go for traditional party nibbles, or have a real 'pot luck' pick and mix.
Appetisers and Canapés:
Perfect for grown-up dos where champagne cocktails and shots are the drink of choice. For canapés with charisma, try blinis (mini Russian pancakes, available in the chiller cabinets at most supermarkets) with caviar or tiny slivers of salmon and sour cream, and all things 'mini' - mini savoury brioches, bite-size quiches, spring rolls, and tiny cocktail sausages wrapped in streaky bacon. Serve on platters as you mingle with your guests.
Buffets
Buffets are perfect for mixed groups – you can go mad with the reindeer themed fairy cakes for the children, and lay on the mini pork pies and scotch eggs for the older guests! A good mix of food is essential to take in all tastes – and don't forget some vegetarian options too. All the usual suspects like sausage rolls, crisps, tortilla chips and salsa, breadsticks and dips, vol-au-vont cases filled with egg mayonnaise, creamed mushrooms or cream cheese and walnut pieces will go down a storm!
Children's Christmas Parties
The trend for Christmas tea parties for school age children is growing fast. Usually held the weekend after school breaks up, invites and acceptances need to be sent out fast! Thankfully, a kids' Christmas party is no more difficult to organise than a birthday party – just substitute the birthday theme for a festive one and you'll be on to a winner! Games can include pinning the nose on Rudolph in place of pin the tail on the donkey, and a festive pass the parcel, with the package wrapped in wrapping paper. Pack going home presents in Christmas gift bags, and hand out Christmas cake at the end of the do!
Office Parties
If you've been given the Herculean task of organising the Office Party, you're going to need all the help you can get! Before you book out a table at the swankiest restaurant in town just because you're spending someone else's money, have a good think about who'll be going, what they'll expect from the party, and how it'll all end! If most of the staff want nothing more than a festive booze up you might be better booking a private room with buffet at your local pub.
If your co-workers are looking for a glam night out, a restaurant or hotel will be your best bet – but chose your venue with care; will your party night be exclusive or shared with other works' parties? Is the location easy for everyone to get to and get home from? Does the budget stretch to providing taxis home? Will the venue (if a hotel) provide preferential room rates if people want to stay over? Can workmates bring a guest (and always specify 'guest' rather than spouse or partner so people know they can bring a friend if they are single). Crossing all the Ts and dotting all the Is will result in a smooth running bash!
And most Importantly...
Whatever sort of party you throw, have fun and take time out to enjoy it yourself!
You might also like...