Dinner Parties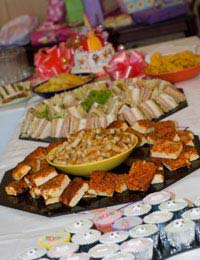 For an intimate adults' only get together, you can't beat the sophistication of a dinner party. Great food, great wine and great conversation - what more could you ask for?
Planning
What is your dinner party for? A celebration (birthday, anniversary or similar)? A way to catch-up with old friends? A work related event? Whatever your reason for hosting it, take the stress out of the preparation by following some simple rules!
Pick your night carefully - Sunday nights could be difficult for parents who have children to shoehorn into bed and school kit to assemble for the next day. Week nights could prove problematic for those who have a long commute into work the following morning. If in any doubt, ask your intended guests which nights work for them - and which are definitely no-goers.
Food
You don't have to lay on a gourmet, five star spread for your guests, and generally, trying out a brand new (to you) and intricate recipe on the night is just asking for trouble! If cooking is not your forte, or if you have little time in advance to make something elaborate, always go for simple, tried and tested food that is easy to eat and straightforward to make. Check out magazines and newspaper supplements for inspirational recipes, or look online for ideas - for example, Google your favourite TV chef - most will have their own websites with step by step recipes.
Dietary Requirements
It is always a good idea to ask your guests about food allergies, intolerances and special dietary needs before planning your menu! Most meals can be easily adapted to suit special diets - but always seek clarification from your guests as to exactly what they can and cannot eat and remember, some ingredients pop up in the strangest of things (animal fats or fish oils in cakes and puddings for example).
Wine
If you are a wine buff, choosing the perfect wine will be as important to you as your choice of food and table decoration, but if you don't know your chardonnays from your sauvignon blancs, then always go with a wine you like and are familiar with or ask for recommendations from your friends. As a general rule of thumb, dry white wines work well with chicken, seafood and fish, whilst red wines go well with red meats and salmon. If you are offering different wines with different courses, it is usually suggested that white wine is served before red and that you keep the best bottle until last!
Ambience
Keep your dining room clutter free, atmospherically lit (no 100 watt bulbs in the main light!) and comfortably heated. Use background music, preferably on repeat so you do not get an awkward lull in the middle of your meal. Keep your table decorations simple - a huge floral centrepiece might look stunning, but not if it gets knocked over every time someone reaches for the salt! The same goes for candles - use them on sideboards, shelves or in fireplaces rather than on the table as they risk being knocked over or, if your table is small, moved anyway once the food is served.
Children
If you have children of a similar age as your guests' offspring and it is practical to do so, setting up a separate little persons dinner party in the playroom or bedroom along with a mountain of DVDs, popcorn for afters and plenty of soft drinks could spare your guests the costs and organisation of baby-sitters and keep your own children entertained too!
You might also like...