Buying the Right Gift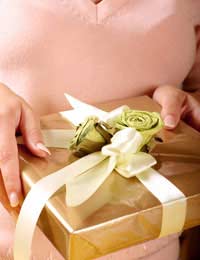 What ever the occasion or reason for giving, there's nothing worse than handing over your beautifully wrapped package and then sensing the disappointment of the recipient once it's unwrapped. Some people are genuinely impossible to buy for, but there are some one-size-fits all pressies that anyone would be delighted to receive!
Gifts for Women
Generally, you can't go wrong with a luxury – or at least luxurious – gift for a woman. Perfume, bath products and cosmetics never disappoint, as long as they are purchased thoughtfully rather than in a smash and grab at the perfume counter! By thoughtfully, read appropriate! For instance, a young girl or teenager isn't particularly going to appreciate a lavender scented soap and fragrance gift pack, whereas an older lady probably would. Likewise, a teen would undoubtedly love a funky designer name perfume and body lotion from one of the brands predominantly featured in the magazines they read! (and they are always a good place to get ideas – have a look at the magazines your intended recipient buys – chances are, any of the brands featured in full page, supermodel endorsed ads will appeal!) And vouchers for spa days or pampering treatments will always please even the most difficult-to-buy for woman.
Gifts for Men
For the man that has it all, find out what makes up the bulk of his cache of 'stuff'. If he's a bookworm, get book tokens – yes, they're boring, but they show you know his interest and have thought about a present he can make use of. Ditto music store vouchers if he is a CD or DVD fiend. Action men might appreciate 'experience' vouchers where they can take a flying lesson, drive a racing car or even take a cordon bleu cookery course! Take care with this type of present though – if the location of the event is far away, and the person has to go alone or pay a lot to take a friend with them, your present could end up either going to waste or causing more trouble than it's worth! Men of all ages will also appreciate fragrance and male grooming products – or how about a voucher for a traditional wet shave, facial or massage?
Buying for Children
Buying for other people's children can be a minefield – unless you know the contents of their toy boxes inside out, there's always the chance of buying something they've already got, or something that their parents will disapprove of or not have space for. Asking in advance what they'd like is sensible, but does take the fun out of it for the giver. For very young children, shoe vouchers, particularly for those all important first shoes, are always appreciated and totally practical. For slightly older toddlers, find out if their local soft play or activity centre offers gift vouchers or membership packages – not only a really original gift idea, but one that will give pleasure for months after their birthday. School age children up to young teenagers will appreciate something similar for a theme park or wildlife centre – or, if a single membership could cause too much additional cost for the parents, how about a day's family pass with a small cash contribution to be spent in the gift shop for a souvenir for the birthday girl or boy?
Plan Ahead
Setting up a gift cupboard can save you a lot of money (and grief!) when it comes to out-of-the-blue party invites or occasions where a gift is needed unexpectedly . Stock up all year round on non-perishable pressies like gift packs of toiletries or novelty mugs and socks – even if they're not the sort of thing you'd give to your closest pal, they can be a lifesaver when the kids urgently need a present for 'Miss' at the end of term, or a neighbour invites you in for birthday drinks! Check out charity shops too for brand new unopened items, especially just after Christmas when people donate all their unwanted gifts. And invest in a supply of bottle bags (available from any card or stationery shop) so if all else fails you can raid your own drinks cabinet and always have a welcome present to hand.
You might also like...