Guest Books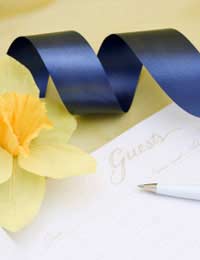 A guest book being handed around the tables at a wedding reception is a common sight and of course a lovely keepsake for the newly weds. But don't just think of them as a wedding tradition - guest books can provide a lasting memento for all sorts of other celebrations too!
Babies Birthdays
Many parents get given gifts of baby record books when their children are born - these special journals have spaces to record milestones in their child's life, including birthdays, first Christmases etc. Handing the book around on birthdays or at a Christening for guests to add a message to will really capture the moment - something that often passes all too quickly for parents trying to organise the 'perfect' day - and it also makes a lovely family 'history' book for parent and child (and future generations) to look back on.
Leaving Parties
A guest book or message book makes the perfect leaving gift for a co-worker or employee. Organise it well in advance and include anecdotes from work-mates, photos and copies of any mentions of them from old staff newsletters. If your company regularly updates staff photos on websites and handbooks, track down all their old pics and build up a 'now and then' montage. Take pictures of their workspace, the office building and their colleagues and either add them to the book, or put them on a cd-rom and slip inside the inside cover. Keep pages blank at the back of the book for well-wishers to write their final messages in on the leaver's last day!
Anniversaries
For a wedding anniversary, why not hand around the original wedding guest book for the guests to re-sign? A new book, perhaps leather or suede bound, would also make a thoughtful and innovative anniversary present - especially if it was in keeping with the number of years the anniversary was celebrating - first being paper, third leather etc.
Significant Birthdays
A guest book for an 18th, 21st, 30th, 40th or any other significant birthday can be easily turned into a This Is Your Life type gift, containing photos, mementoes, classic quotes, and of course, lots of messages from friends, family and party guests. Collude with guests before the party to gather items to fill the book, then present it to the guest of honour on the evening, before handing it around again to fill with messages from the party goers!
Other Ideas
Photo Album Guest Books
Compile books of photos with space for messages after special events and have your friends annotate and sign them - perhaps after a hen or stag night, or group holiday.
Visitors Book
Step back in time and keep a visitors book at home for your guests to sign after dinner parties or weekend visits - great to look back on and to discover what they really thought of your cordon bleu cooking!
Fun Books
Going on a cruise or partying on a riverboat shuffle? Have a ships log for guests to record their thoughts and messages in.
Photocopy the cover of a relevant book and cover your guest book with it for themed parties, or for special birthdays - how about covers from old comics or annuals from the 60s and 70s for 40th and 30th birthdays, or ration books or old baby knitting patterns for older birthday boys and girls?
You might also like...
I'm curious - how many people really use guest books at parties? I can see it for a wedding reception (and I've been there when one went round), but past that I don't recall any instance of it. Have I simply been attending the wrong parties or isn't it that common, after all? It seems a little excessive to me, as most parties won't be that big, and a photo album would be quite adequate, but maybe I'm behind the fashionable curve.
Damien
- 2-Jul-12 @ 10:48 AM