Kid's Parties (5-11)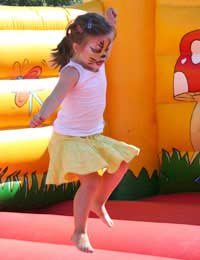 If the thought of twenty (or more!) fairy cake and jelly wielding children rampaging through your house is enough to make you ban birthdays for ever read on – there are ways to ensure harmony and decorum for both parent, guest and birthday child!
Invites
Use your invites not just to advise of the time and place of your child's party, but also to impart any vital information to parents – 'mums and dads welcome to stay for refreshments' makes it clear that they can either drop their offspring off and collect later, or hang around for the duration. Likewise, 'pick up at 5pm please' make it plain that parents are not expected to stay, but they are asked to collect their children at a set time.
Venues
For younger children, home can work well as long as the numbers are manageable. If your child insists on inviting their whole class, community and church halls usually represent really good value, but you will normally have to provide your own catering and entertainment. Leisure and play-centres often offer inclusive packages for parties, for instance, a session in the pool or play area followed by a provided tea and party bags. For large groups of children these can be a really good deal – plus you won't have the hassle of clearing up afterwards! For older children from around 9-11, birthday trips to the cinema or bowling alley always prove popular, and group discounts and 'party packages' can often be negotiated with the venue.
Themes
If you are hosting the party at home or in a non-catered hall or other venue, having a theme can really give the party a 'peg' to hang on and entertainment can be built around it. For instance, fancy dress inspired by the latest must-see film, with games such as pass the parcel based on the same theme will all tie the party together and keep the children's interest. A Pirates of the Caribbean party could combine fancy dress, pirate inspired face painting, variations on musical chairs ('island' shapes taped to the floor instead of chairs) and plain paper bags with treasure maps drawn on as party bags.
Decorations
Decorations can cost a fortune, and it's usually only the adults who notice them! Younger children love balloons, so a room filled with dozens that they can throw about, burst and run amok with will always go down well! For garden parties a bubble machine can be great fun and cheaply hired. If space permits in your garden or hired hall, bouncy castles can also be rented relatively cheaply, and are generally suitable – and entertaining - for children up to about 9.
Going Home Presents
Buying going home gifts for your guests can end up doubling the costs of your party. With some canny and imaginative ideas, you can really keep the costs down, but still send your guests away with a lovely bag of loot. If you are at home and can easily access your PC, taking digital pictures throughout the party and printing them to put in the party bags makes a fun pressie, and giving the bag at the start of the party so the guests then fill it with all the little prizes they win during the games is also a good idea. Mini pens, notebooks, tubs of modelling clay and rocket balloons will please younger children, whilst 9-11 year old girls will love mini lip glosses, fluffy pens and girly hair bobbles. For older boys, anything with a mildly disgusting theme – such as 'farting putty' and 'alien baby eggs' will delight!
Food
At the end of a party it often feels like you throw away as much food as you set out in the first place! To avoid this as much as possible, offer food in stages rather than laying out the whole spread in one go – if the table is laden with ham sandwiches and chocolate cakes at the same time, it doesn't take Carol Vorderman to work out which is going to disappear fastest! Offer sandwiches and other savoury nibbles first, then bring in the cakes and biscuits once they've been eaten.
A Don't Forget...
Always take a contact number for parents who are not staying with their children.Find out in advance about nut or other allergies/intolerances and vegetarian diets etc.Make sure parents are aware of locations of cinemas, bowling alleys etc. and that they know exactly what you'll be doing and where you'll be going.
Don't be vague about finishing times – you'll be glad of a firm end time once the sugar rush has started!
You might also like...