Hire a Professional DJ or DIY?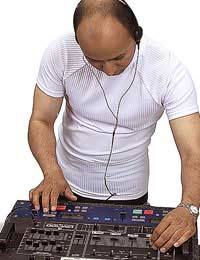 Getting everyone up and on the dance floor should be one of your main party priorities - but it doesn't come without its trials and tribulations! Whilst the Kooks and the Killers might be topping your teenage offspring's 'request list' and your great aunt is still holding a torch for Liberace you're left with the thankless task of keeping everyone happy - and grooving!
Hiring a Professional
Hiring a DJ or 'mobile disco' takes the pressure off you entirely - at a price. If you do use a DJ, go for personal recommendation rather than the cheapest option - a bad DJ could ruin your night. Ask to see them in action or see their playlist so you can get a feel for the kind of service they offer. And find out what their repertoire consists of - do they simply spin those discs, or do they have a bit of banter between tunes?
DIY DJ
If you are hosting a private party at home, putting together several compilation CDs before the event will save you having to deal with the music all night. If your music collection is lacking in anything post 1990, check out CD hire at your local library, or search online for reputable download sites, paying heed to copyright and licensing laws at all times!
For themed parties, tie in your music with the rest of your party - country and western for Wild West parties, jazz and big band for 20s, 30s and 40s parties. A quick search online should reveal the top acts for each decade, enabling you to have an authentic background sound.
Professional Musicians
For more formal events you may chose to hire professional ensembles in the form of a jazz band, harpist or a quartet. Again, go on recommendation and make sure you hear a demo tape before you sign on the dotted line! You will need to book far in advance, and it will be costly. Consider approaching local colleges and musical groups for a cheaper option - the arts department of your local council should be able to point you in the direction of musical organisations in your area.
Dos and Don'ts!
Do provide a good mix suitable for all ages - 60s classics, 70s disco tracks, and well known Brit pop songs and number ones always go down well, as will rock and roll sounds that people instantly start tapping their toes too!
Do include a few kiddie songs if children are present - TV theme tunes they will recognise, and old favourites like the Hokey Cokey.
Do throw in a few cheesy tunes that are guaranteed to have people larking about on the dance floor, i.e., Agadoo, the Conga, the Birdie Song and Superman.
Don't have the music so loud that people can't talk or hear themselves over it!
Don't place the sound system directly behind seating areas or tables.
Don't let people monopolise the stereo - if a guest arrives with an armful of Goth death rock CDs, tactfully relieve them of them and lock them in a cupboard until home time!
Don't book a live band or DJ without having heard demos of their work before hand!
You might also like...