Organising Parties and the Costs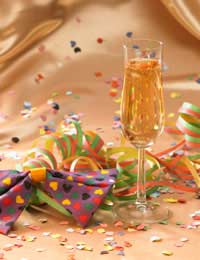 Keeping a running check on your spending for a party is always a good idea - all that splashing out on 'little things' can soon add up!
What's Your Budget?
Start your party planning with a realistic budget for the event. What will be your biggest outlay? What costs are fixed and what costs could change during the planning? Do you have a contingency fund if things go wrong or something goes over budget? (for example if your caterer or hall booking falls through and you have to look elsewhere).
Who's Paying?
Who's funding the party? If several people are chipping in for a friend's or relative's birthday or leaving do, then it makes sense to have one individual in charge of the finances. A simple spreadsheet, Word document or even a notebook with all outgoings listed will do the job adequately.
Keeping Tabs
Keep receipts for everything - even those sundries which may have cost pennies - they all add up eventually and will knock a hole in your budget. Resist the temptation to buy things on a whim - have a clear list of all the things you need and do not allow yourself to be swayed away from it by pretty shop displays and enthusiastic sales assistants!
Where to Cut Corners
No one wants to spend their entire party planning scrimping, but cutting corners in some areas in order to spend more in another can be a good idea. For instance, buying in cheaper tableware so you can spend more on good quality food is a sensible compromise, and one that your guests will appreciate. Scrimping on food in order to have a fireworks display or stilt walkers serving drinks is not!
Where to Splash Out
When deciding what to splash your cash on for the event, think of who the party is for and what would mean the most to them; for a child's christening it could be going to the expense of hiring a professional photographer to capture the magic of the day, or commissioning a special, personalised cake. For an important birthday (40th, 50th etc.) you might want to flash the cash on hiring a particular venue or setting the scene for a particular theme. Decide what is the most important aspect of the party and budget for it accordingly.
Getting Good Deals
Do not be afraid to tell caterers, event organisers or function room staff what your maximum budget is. If you give the impression that money is no object you won't necessary get good value! By being clear from the start just how much you are prepared to pay and what you'd like for that sum will mean everyone knows where they stand - and you'll avoid any nasty surprises when you come to pay the bill!
Calling in Favours!
Get friends, relatives and co-workers on side early on in your party planning and let them know you are working to a strict budget - you never know who might know someone who can get a good deal on food or wine or entertainment. Call in favours and delegate tasks to help keep your budget down.
By keep your spending in check every step of the way - particularly if you are using a credit card rather than 'real' money - you'll keep to your budget and be more conscious of costs - and potentially have funds left over for some bonus buys too!
You might also like...