School Reunion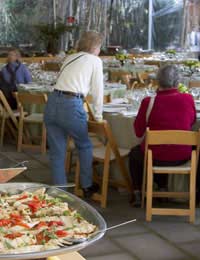 School Reunions are very much en vogue at the moment, with websites like Friends Reunited stirring up our interest in our old school chums and where they are now. School reunion parties are the next step on from those catch up emails, and a great way to reacquaint yourself with all those blasts from your past!
Rallying the Troops
Actually tracking people down might initially seem like an impossible task - people may have married and have different names or moved out of the area. If you can't find them through reunion and networking websites, try placing an ad about the possibility of a reunion in your local paper - even if your old friends have moved on, family members still in the area would be sure to pass the advert on to them. Don't forget to invite all your former teachers too - something your old school office should be able to help with by forwarding the invite or publicising the event in their newsletter.
Budget
Funding your reunion might prove to be your biggest headache! You will need to decide whether or not to charge for tickets, whether guests will be permitted to bring partners (a good way to increase revenue if selling tickets) or if you will raise funds by other means (charging for 'school dinners' maybe, or by selling photos taken on the night).
Venue
Your first choice should of course be your old school! But if that is not possible, think of other local places that your friends will have fond memories of - a youth club building maybe, or - dare we say - a local pub! If your old school is not keen on parties being held actually within the school building, it could be worth enquiring if the grounds could be made available for an outdoor event with marquees etc.
Invites
You'll probably find that most of your organising, tracking people down and inviting is done by email, but sending a proper paper invitation makes for a memento in itself, especially if it is made in an apt school style, like an end of term report card, or 'pupil post' letter home, or printed on to a cut out shaped and coloured like your school tie or logo. Or how about putting the details over the top of a copy of an old class photo or leavers day picture?
Decorations
If you are celebrating at your old school, you might not want to decorate your party space too much; the hall itself being such a strong reminder of your time there, but if you have a reception area or place where guests sign themselves in, a notice board or wall dedicated to school photos, ties or school badges would make for an interesting display.
Fun Stuff
A reunion is all about reliving your past as well as catching up on everyone's latest news. To really transport yourself back to your schooldays, you could consider:
Organising 'school bus' transport to and from the venue
Having a school uniform dress code
Providing a sit-down 'school dinners' meal
Having 'school photos' taken at the event
Playing 'sports day' games like three legged races and relays
Remember, your school days are allegedly the best days of your life - so what better reason to recreate them for a night?!
You might also like...