Valentines Ball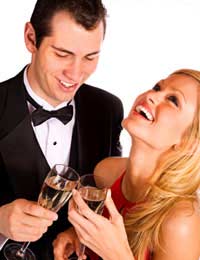 Decadent and romantic, a Valentines Ball should be a night of passion and enchantment, whether it's held in the ballroom of a swish hotel or your local church hall!
If you are planning on organising a ball or even just a small party at home, there's a whole host of things to consider.
Invitations
Your style of invitation will depend on the type of party you are throwing. For a formal ball, sophisticated, heavyweight card or cartridge paper invitations and matching envelopes will create the right impression, whilst a more casual get together could call for fun invites, for instance, a deflated heart shaped balloon that the recipient has to inflate to read the party details!
Themes
A theme will give your party a central focus, and enable you to plan your invitations, decorations, food and costumes around it. Courtesans, famous lovers and masquerade balls are all popular themes for Valentine's parties, but your theme could be as simple as using a set of colours throughout – black and red, and cream and gold for example.
Decorations
From garlands of tissue paper hearts, to cupid and heart shaped table centred pieces, Valentine party supplies are available in abundance from party suppliers both on the high street and online. For a more individual and chic look for your party room, try decorating solely with flowers and petals. Red roses can be very expensive, especially around Valentines Day, so use a variety of red blooms for instance amaryllis, tulips and carnations. Many wedding suppliers sell large packs of freeze dried petals which look beautiful scattered on tables – red rose petals look particularly stunning against a crisp white tablecloth.
Venues
Venues will depend largely on budget, and large party spaces, such as function rooms, ball rooms and community centres will be booked up months in advance for Valentines night. For bookings such as these, and conference suites, school halls and church halls you should make your booking at least six months in advance. If you are hosting your party at home, and have space outdoors, hiring a heated marquee or party gazebo will not only give you a big space to play with, but will also contain your event to one area, making decorating it and clearing up afterwards considerably easier!
Food
A Valentines Ball should be an elegant, sophisticated event. Welcome drinks and canapés should be served to guests on arrival, then followed by either a sit down meal or a finger buffet. In a catered venue, a choice of menu will usually be offered to you at the time of booking so you can decide in advance what will be served on the night. If you are doing your own catering, have a browse on the websites of professional catering companies and see what kind of foods they provide for parties – it should give you some good ideas to work from.
Drinks
Champagne is the traditional drink of Valentines night, and can be served as a cocktail for the best (see champagne cocktail recipes) or just straight in pretty flutes. For tee-totalers or drivers, passion fruit juice or an alcohol free fruit cocktail is a good alternative.MusicFor a Valentines ball, a harpist will really set the mood, and provide romantic background music when people are arriving and eating. For dancing, a jazz band or 'big band' style ensemble will provide the right music but staying with the sophisticated feel of the event. For a less formal party, a DJ and a suitable stack of smoochy music will suffice!And when all your finishing touches are in place, keep your fingers crossed that love is in the air!
You might also like...