Choosing an Entertainer for your Children's Party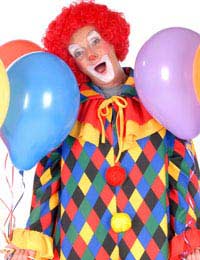 Hiring an entertainer can really take the pressure off parents at a children's party. But choosing the wrong one can bring a whole host of problems of its own!
Word of mouth recommendation is most the risk-free way of choosing your party performer – but make sure you start asking around well in advance of your party date – it is not unheard of for popular entertainers to be booked up months – even years – in advance!
Asking your children about entertainers they have seen and enjoyed before is also a good way to gage a magician/balloon modeller/DJs prowess and their children-friendliness. Be warned: not all entertainers are the cuddly, friendly, child loving clowns you'd imagine – horror stories doing the rounds include magicians who lose their temper when their tricks go wrong, and shouting at children for being to noisy!
With young children, also be aware of their personal likes and dislikes: if your daughter has a complete and utter terror of men with beards for example, it won't matter a jot that Mr Whiskers is the most popular entertainer in a hundred miles radius – she will still be terrified throughout the whole party!
If you are new to an area, or cannot source any recommendations, phone around several entertainers to get a feel for their acts, prices and how busy they are – the entertainer who has every Saturday free between now and 2009 probably isn't the most popular in the county. Don't go with the cheapest or the performer who has the most availability – ask for references, or even DVDs or videos of their past shows. A professional and popular entertainer will be proud of their act and their reputation and will do everything to prove to you just how good there are.
Working with Your Entertainer
A competent entertainer will ensure the party runs smoothly from start to finish, with no hiccups, pauses or uncoordinated moments. The party planner (you!) will need to work out with the entertainer the timings for the party food, cutting the cake, playing the games etc, but it will be up to the entertainer to ensure that these are adhered to, and the movement from one activity to another is seamless and without fuss.
If there are particular things you want from the entertainment – if for example your child has a favourite party game, or certain music they want playing, then make your wishes known well in advance and be prepared to provide CDs of your chosen songs if necessary.
Many entertainers provide party-bags or going home presents as part of their overall fee. Ask to see an example of a their party bags – they may well have budget and deluxe versions available, or they might offer a basic a bag that you can also add your own contents too. Satisfy yourself of the quality and quantity of the products before handing that element of the party entirely over. It is also normal practise for your entertainer to add a business or contact card to the party bags, or to hand out cards to the other parents whilst the children are eating their party food.
An entertainer should add a magical element to your child's party, and take away the stresses of entertaining – do your research and ensure that the entertainer you chose does just that!
You might also like...