Surprise Parties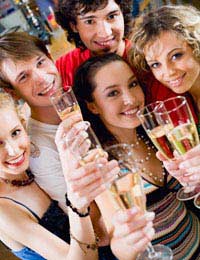 Surprise parties are not easy to pull off - even the most basic of events needs thorough planning, utmost discretion and stealth like preparation - but with a bit of hard work, it can be done!
Helping Hands
This is not something to attempt alone: to get the party off the ground you are going to need a hard-working team around you - and one that you can trust not to give the game away or blab under pressure!
Consider recruiting friends rather than relatives to help you: too many phone calls, unexplained dashing off and mystery parcels will immediately give the game away between family members, but friends will be able to work undercover easier!
Venues
Deciding where to have your surprise party will be one of your biggest hurdles. It needs to be close enough to ferry things to and from, easy enough to get the unsuspecting recipient to swiftly, and convenient enough for people to arrive at early in order to carryout the surprise! Check out hotels, pub function rooms and sports clubs for reception and banqueting suites, and make your choice based on your numbers, finances and ease of use.
Calling their Bluff
If nothing is mentioned about a celebration in the run up to a 'big' birthday or other significant cause for celebration, then the person involved will automatically get suspicious! Instead of sweeping the whole notion of the big day under the carpet, go along with whatever it is they have in mind - most people will automatically request nothing more than a meal out with their nearest and dearest, or maybe even just a few drinks in their local pub.
Keep them in the loop regarding your preparations for the pretend meal or drinks party - a few overheard conversations about booking tables, phone calls to let friends know which pub you're going to etc. will be enough to put them off the scent and not arouse suspicion. Just try to avoid going over the top - your hammed up denials of acting out of character, or behaving suspiciously will immediately give the game away!
Invites
When your guest of honour has no say in who is being invited to their party, you need to tread carefully and do all that you can to ensure those who are invited would have been so if the person had have been arranging their own event. A surprise party is not the occasion to try to build bridges or engineer family reunions. Tact and diplomacy are the keys words. Always remember who you are throwing the party for and cast your own feelings and wishes aside!
Avoiding Pitfalls
The worse that can happen with a surprise party is that your guest does not turn up! Again, this comes down to thorough planning and thinking the whole concept through. If you suspect that the birthday boy or girl will react badly or not be appreciative of being taken covertly to a hotel suite and then leapt out at by fifty people they were not expecting to see, then don't do it. It will be an embarrassing - and potentially expensive - mistake for all concerned.
On the Day
On the big day, delegate the job of getting the star guest to the venue to one person, and create a good reason for the detour. But again, take your guest's personality, age and even health into account - even if they are overjoyed at the surprise, emotionally it could be draining and difficult for them. Make your decisions with them in mind rather than bigging up the element of surprise!
Capture the Moment
When a surprise party goes to plan and is genuinely unexpected and a complete shock to the recipient, the moment of realization cannot be repeated. Make sure you have your camcorders and cameras at the ready to record it for prosperity!
You might also like...