Throwing a Sweet 16 Birthday Party - American Style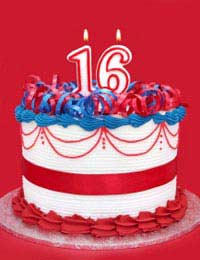 Anyone who has seen MTV's My Super Sweet 16 reality TV show will know that in the US, sixteenth birthday parties are full on, push the boat out affairs, with no expense spared. And where the US leads, the UK soon follows, and Sweet 16 birthday parties now have all the same importance as 18th and 21st celebrations. Gone are the days where a sixteenth was marked simply with a flurry of cards and pile of presents!
Invites
A US style super sweet 16th birthday party starts with a tantalising invitation! The build up to a 16th should be as indulgent and decadent as the actual bash itself, and the invites should be no exception. It's not unheard of for the birthday girls to hand deliver their invites by horse and carriage or have a pre-party to announce the actual party! But however the invitations are dispatched, make sure it is with panache and style - so no e cards or text message invites - opulence and luxe are your keywords!
Themes
Once you have established a budget for the party, you can start planning your theme, venue and entertainment - and when doing so, think outside the box. If it's easy to come by, organise and arrange, then it's old hat! Choose something new, dazzling and innovative that is going to totally wow the birthday girl's friends, and be the talk of the class room for the next twelve months!
Sweet sixteen birthday party themes are seemingly endless - it would appear that in the US at least there is no backdrop, decoration, entertainer or fancy dress that cannot be sourced when it comes to parties - from ancient Egyptian scenery complete with pyramids and sand, through to jungle settings with horses painted up as zebras - for a Super Sweet Sixteenth there's nothing too outlandish or over the top to be considered!
You could go for:
Mardi Gras or carnival party with carnival floats and steel drums - you could go Caribbean style Mardi Gras or New Orleans jazz style.
Arabian theme with a tented venue, Turkish carpets instead of seats, and belly dancers and snake charmers for entertainment.
Moulin Rouge party, with fancy dress, can can girls and Parisian city backdrop.
Masked Ball - Venetian style masked ball.
Winter Wonderland - silver and white colour scheme with a rented ice rink centre piece.
Limousines
No American Sweet Sixteen birthday party is complete without a fleet of limos to chauffeur the birthday girl and her guests to the venue - or if limos do not fit in with your theme, find a mode of transport that does - the grand entrance for the birthday girl is everything!
Special Gift
Traditionally, the parents of the Sweet Sixteen party girl give her a spectacular gift at the end of the party - this could be jewellery, a car, or another present of significant value. The is the pièce de résistance of the event and completely tops off the night of indulgence!
So, push the boat out, go wild with your theme, and completely OTT with your invites, decorations and entertainment, and ensure your daughter or friend's sweet 16 is the bash of the year!
You might also like...