What Supervision is Required for a Teenage Party?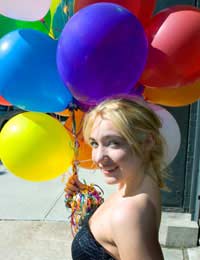 Q.
One of my friends is planning a large party (approx 200 teenage guests 12-14 years old I expect). She is hiring a hotel venue used to running events, eg weddings etc, but I wonder whether legally she will be required to supply adult supervision for so many children and in what ratio, ie 1 adult per 10 children attending?
Please can you clarify if there are any rules governing this. Not all the children will be relatives or close family friends so she might not know all of them.
(J.K, 9 June 2009)

A.
At a teenage party the level of supervision needed will vary depending on how old the teenager in question is. A 13 year old will need a different kind of supervision to a 16 year old, so you'll have to consider how much you trust your teenager and their friends. You also need to take into account who you are inviting to this party and how many people will turn up. The trick is not to get in over your head; two adults should be the minimum for a party of 10 to 15.
The People at the Party
Think about your teen and their friends and what sort of circles they move in, if they are known to be quite rowdy then you might need more supervision than if your child and their friends are quiet. The key is to have as many adults there as you feel comfortable with, there is no reason that you can't have your own mini party with some friends in the kitchen so you can all supervise but have a good time also.
The Supervision
If you are planning a big party then it might be worth having someone on the entry/exit points of the venue to ensure that no opportunists see that there is a party and try to gate crash, the party should be invite only. Also when dealing with older teenagers, if alcohol is not permitted at the party then be on the look out for those sneaking off, bringing bottles of their own drink in etc.
The Rules
Make sure there is discreet supervision in the toilet areas as these are prime places for underage teens to sneak a drink and top it up with alcohol or even to use drugs. If you are worried about alcohol and drugs then it may be wise to either search bags upon entry or to get the guests to leave them in plain view of the supervising adults.
Before the party starts set some ground rules with your teen possibly with the threat of no more parties if the rules are broken. These could be no smoking, no drinking and so on.
You might also like...