Favourite Kid's Games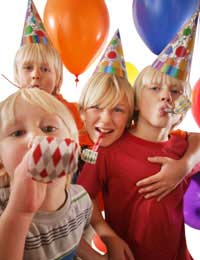 There a just some games that no children's party is complete with out! Relive your own childhood by introducing some of these traditional games at your child's party:
Musical Chairs (or cushions or beanbags)
Pass the Parcel
Pin the Tail on the Donkey (or any other animal - rabbit for Easter parties nose on Rudolph for Christmas parties etc!)
Musical Statues
Hot Potato
Musical Bumps
Charades
Chinese Whispers
Egg and Spoon Race (or potato, ball, chocolate egg or small soft toy)
Blind Man's Bluff
Simon Says
Oranges and Lemons
Sleeping Lions
Hunt the Thimble
Modern Must Have Games!
The Loo Roll Game
Buy a bulk pack of economy loo roll, divide the children into pairs, set a timer for one minute and have one of the pair 'mummify' the other child within 60 seconds! The winning teams are the pairs with most paper on them, the losing team drops out. Partners then switch from mummifier to mummy and continue until just one pair are left in the game!
Take extremely close up digital pictures of everyday objects like zippers, matches, thumb tacks, mobile phones. Zoom into the image on the computer until it becomes hard to decipher. Print out five or ten images on one sheet of paper, and set a timed challenge to identifier all the objects!
What's in the Box?
This can be as messy or as clean as you want it to be! Blindfold each player and have them identify - through touch - the contents of several containers. For a messy version with a real 'yuck' factor, use things like cooked spaghetti, tinned tomatoes, and baked beans. For a cleaner alternative, try dried pasta shapes, popcorn kernels, peppercorns and rice.
Flour Bobbing
Using a large container, like a washing up bowl, hide wrapped treats like fun sized chocolate bars, lollies and biscuits in a vast amount of flour. With their hands behind their back, the participants have 30 seconds to 'bob' for their prize! (Adult supervision required at all times, and not suitable for very young children in case of flour inhalation.)
Treasure Hunt
Devise a set of written instructions with a series of clues that will lead to the hidden treasure! Divide the children into two teams (and maybe have different clues leading to two treasure-troves to avoid tantrums!) Use simple, easy to solve puzzles and riddles else the game will go on too long and the children will lose interest! Have the trail lead them to a well hidden place (airing cupboard, under a bed, a bush in the garden!) where their bounty awaits them!
Top Tips!
Always remember that very young children might not get the concept of winning or losing. To avoid tears, always have some consolation prizes on offer. Similarly, don't be too strict with the rules - a three year old won't have a game plan in mind when he undertakes a round of musical chairs, and probably won't fully grasp the general rules of play - always good to bear this in mind if a little one yanks another child off a chair, or sits on top of them!
Keep prizes small - treat size chocolate bars, pencils, mini pack of crayons and little notebooks - or, forgo individual prizes altogether and give everyone a 'prize bag' party bag at home time.
You might also like...