Quiz Nights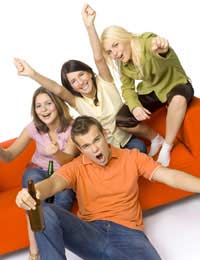 Quiz themed parties guarantee a great night's entertainment for everyone and can be tailored to suit any occasion from fund-raising events to birthday parties.
If you are inviting a mixture of guests, from the elderly to the very young, make sure everyone is in with a fighting chance by providing a good range of questions that will cover themes applicable to every generation.
One way to make sure your quiz is completely inclusive is to mix your teams up, ensuring there's a good mix of older and younger players in each. This can also prove to be a good ice breaker for groups that don't know each other very well.
Sourcing Questions
The temptation may be to just rattle off a load of questions from a quiz book or game, or an internet resource, but by constructing your own questions, you can inject a lot more fun and personality into your quiz. For family groups, why not set some quirky questions relating to various relatives, i.e. "Where did Uncle Bill capsize the dinghy in the summer of 1982"?
Avoid questions that require too much specialist knowledge, unless you know your group is likely to have enough background info to make an educated guess – for instance, don't have a whole round on chess manoeuvres or terminology if you know full well no one in the team plays!
Running the Quiz
How you host your party will depend on various factors: the venue, the number of guests, the reason for the celebration etc.
In a large hall, if you are using a quiz master rather than printed sheets of questions, you will need an adequate sound system and microphone – otherwise you'll be besieged with moans from 'the back' that they can't hear properly!
Think about how you are going to mark the answers too, and ensure you have enough volunteers to assist – the easiest way is for teams to swap sheets with their neighbouring table and mark each other's answers, returning the scored sheets to the quiz master to announce the winner.
Theming Your Questions
What is your party for? Is it a birthday, a fund-raising night, a retirement or leaving bash?
Birthdays offer great scope for quiz questions; base the questions around the year your guest of honour was born – remembering to keep them fun and lively rather than dull and overly fact based!
For a retirement or leaving do, consider having a 'How well do you know the company' quiz, aimed mainly at the person leaving – plan in advance, collecting anecdotes, memories and funny stories from colleagues to write some questions around.
For a fund-raising night with a mixed group of people, keep your quiz 'Trivial Pursuit' style, with a real hotch potch of easy, medium and difficult questions on a wide range of subjects – you could even divide your night up into rounds, for instance History, Science, Entertainment etc.
Always remember that the whole idea of a quiz night is to have fun! Don't make your quizzes so difficult or scholarly that your guests feel like they are taking an exam! They will soon get bored and reluctant to participate if the questions are too tough.
Keep questions fun, upbeat and even downright quirky. And make sure you have the correct answers – there will always be one smart Alec in the group who is desperate to prove the quiz master wrong!
You might also like...
Hi do you know of anyone doing a bingo loco for small venue birthday party