Organising a Ball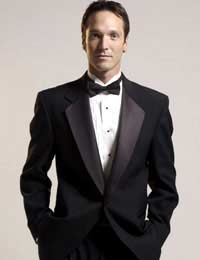 The word 'ball' when used to describe a party or dance, conjures up images of a bygone era - the rustle of silk gowns and the thud of dancing feet in an opulent, gilded ballroom.
A ball is, quite simply, a formal dance where the guests don 'evening wear', either black tie or white tie, the latter being the most formal. Black tie requires a dinner jacket and matching trousers - sometimes known as a penguin suit, whilst white tie (the most formal code of dress in society) consists of the more elaborate black tailcoat, black trousers, white stiff-fronted shirt and wing collar with a white bow tie and white low-cut waistcoat. Members of the military may also wear their 'mess dress' to a ball (mess dress is, quite simply, military evening wear) Scottish Highlands formal dress may also be worn.
For women, etiquette dictates that a ball gown should be worn when an invitation states evening dress or white tie. This means a full length dress, usually worn with long gloves and a shawl or stole.
Organising a Ball
A ball is so much more than just another party, and if you are considering hosting one, there is a wealth of considerations to take into account:
Venue: can you feasibly hire a hotel ballroom or a venue with a space large enough to accommodate dancing, musicians, tables for dinner etc?
Music: you will need a live band - a jazz quartet, perhaps a harpist - can this be done within your budget?
Food: traditionally, you will host a sit down gala style dinner before the dancing commences - does space and budget allow for this?
Charity Balls
If you are going to sell tickets to your ball to perhaps benefit a charity, make sure you have your costs accounted for down to the last penny before you price your tickets. Balls are usually expensive affairs, and people will not be surprised at ticket prices of £100 plus. You could perhaps offer a non-dining ticket at a discounted rate for those who do not require dinner; just make sure all your costs are well and truly covered and you see a clear profit from each sale. Seek sponsorship for your ball and consider putting unsold tickets in a local charity's raffle.
Entertainment
If you have space away from the dance floor, or perhaps a terrace where guests can slip away to put their feet up between dances, a harpist would provide a lovely, soft, musical backdrop. Also consider what music your guests will enter the ball to - will your main musicians entertain throughout the champagne and canapés, or will you have a soloist or pre-recorded music for the arrival drinks period?
Invitations
If your ball is a social event and not a fund-raiser or charity night, you will need to send personal invitations to all your guests. If your event is black or white tie (and, for a ball, it should be!) Your invitations should also be formal and classic on good, heavy, cream or white card and in the style of a wedding invitation. Be sure to stipulate black or white tie on the invitation and be ready to explain the intricacies of each style of dress to those who may be unsure of the rules.
A ball is one type of party where you can never be too formal, too opulent and too luxurious in your planning, organising and execution - really go to town and lay on a night of unadulterated luxury and glamour!
You might also like...