Planning an Eventful Stag Party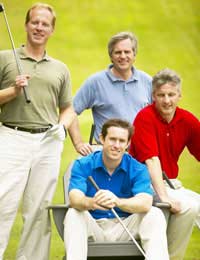 When someone mentions stag parties all the old 'last night of freedom' clichés spring to mind - the copious amounts of alcohol, the stripper, the being tied naked to a lamppost or left abandoned drunk miles from home…even the more up to date options - the stag weekend to Amsterdam or the weekend bender, all seem a bit naff when properly considered - surely there's got to be a better option than a night that'll haunt you for ever?!
The Event Organiser
Usually the best-man-to-be, or the brother or best friend of the Stag will do the main organising for the event. If that's you, then it's crucial for the sake of future friendships (and keeping your invite to the wedding) that you arrange something the groom-to-be is going to a) enjoy, and b) take in good humour. The fun, after all, is supposed to be for him, not at his expense.
Chat with him about things he'd like to do and things he would most definitely not - and if he says a stripper is out, then listen to him, especially if he is inviting members of his family to the event too - what might be appropriate entertainment on a normal lads night out, might not translate too well when his dad and future father in law are added to the mix!
Don't suggest an event that is going to be financially unrealistic for some members of the group - sure, a weekend in Paris, roaming the trendy bars of the Left Bank, would be a blast - but if it all ends up costing £500 a head, it could be prohibitive to some members of your group (and bear in mind that some people aren't very forthcoming at admitting they can't afford something - they'd rather rack up the debt than lose face).
Stag Weekends
Stag Nights are often a 48, or even 72, hour affair these days, and there are lots of travel and events companies offering tailored Stag packages for both UK and overseas destinations. And they don't have to cost a fortune. For example, there are organisations offering complete action weekend packages especially for Stag parties, of quad biking, clay pigeon shooting, axe throwing and hotel accommodation for as little as £159.00 per person - with night-club entrance thrown in too. Again, consider how the activities will suit the guests before booking!
Themes for Stags
With so many Stag packages on offer, there's almost certainly a something readily available to suit your group, whatever their interests. Old favourites like golfing weekends, shooting parties, casino breaks and even footballing weekends are all on offer. Or you could get imaginative and assemble your own package…
Bespoke Themes
So what's your guest of honour into? It doesn't have to be all about getting as drunk and rowdy as possible - if he's a culture buff indulge him - how about a weekend in Liverpool (assuming you don't already live in Liverpool!) earmarked as 2008's City of Culture - fly into the John Lennon Airport, head for the Tate Liverpool, visit the Cavan Club, and hang out at Lennon's childhood home and chill in the restaurants and bars of the mega trendy Albert Dock. Do some research on other major towns and cities too - London, Manchester, York and old favourites like Brighton and Newquay will all offer fantastic facilities for groups who want to party!
Dos and Don'ts….
Don't
, ever, let a female along. Even if there's one gal who is 'one of the lads' or some newly loved up friend who begs to bring his new girlie along - refuse, resolutely. Girls don't belong on a Stag night! They'll always be something they'll object too - and there's no way they'll return the favour come the hen night, so say no and mean no!
Do get a rough idea of what the Stag would like to do and what his boundaries are - nice surprises are great - embarrassing, cold-light-of-day regrets are not!
Don't book mega expensive venues and activities unless you're certain all guests can afford it.
Do be sensitive to all guests likes, dislikes, cultures and beliefs - don't put anyone in a situation they'll feel uncomfortable or out of place in.
Do make it a night to remember!
You might also like...