Evening Celebrations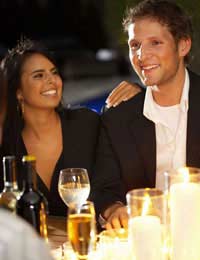 Stuck for an idea for your next evening party? Can't bear the thought of yet another dull beer and buffet event or reception style do in the local church hall? Then why not entertain your guests with something a little different and a little more laid back - try any of these exciting evening celebrations for a fresh new party experience:
Wine and Cheese Evening
A wine and cheese evening doesn't have to be a 'tasting' event - i.e. lots of bottles of wine but no opportunity to really drink it! Instead, set up 'stations' with different cheeses, crackers, breads and rolls for your guests to enjoy with a variety of wines. Finish off with platters of fresh fruit. Particularly good if you've just come back from a channel-hop with plenty of duty free wine and French cheeses!
Spanish Evening/Tapas Party
Tapas bars and restaurants are prevalent in most major towns and cities nowadays - testament, therefore, of their popularity! Tapas is, basically, the name for a whole host of Spanish appetisers. For a Tapas night, you could serve a mix of hot and cold dishes, for example, cheeses and olives, Chorizo sausage, fried diced potato, sautéed prawns, or bite sized pieces of Spanish omelette. Make fresh bread and olive oil available, along with cocktail sticks to spear the pieces of food! Serve with Spanish wines and beers and jugs of Sangria!
Chinese Buffet
Turn just another Saturday night takeaway into a fun party with family and friends. Either order your own takeaway to be shared by all your guests, or request that each diner brings an item for the table - this will result in a good range of dishes. As most Chinese dishes are meat or fish based, ensure any vegetarians are well catered for by suggesting beancurd and plain vegetable chow miens. Ask guests to bring a bottle for a real laid back easy to organise event!
Fondue Party
Fondues are back! Gone are the days when 'fondue parties' meant nothing more than an evening stuffing your face with sweaty cheese to the strains of seventies soul music - fondue is now a perfectly acceptable evening event, and it's not just reserved for the après ski brigade! Don't just think cheese when you're planning your fondue party - there are all manner of fondue recipes with ingredients as wide ranging as beer and tomatoes! Use the cheese simply as your base, and flavour with your favourite ingredients.
Have plenty of good, crusty bread readily cut into cubes for your guests to dip. If the thought of a cheese fondue is just to kitsch for your tastes, go for chocolate instead - dark, milk or white, it makes a mouth watering dessert and goes well with fruits, marshmallows, cookie pieces and chunks of cake. Serve your fondue with good wine, or a fine coffee.
All these party options require very little planning or organising - so much so, they could easily be put together with a moments notice, should a gaggle of friends arrive out of the blue. Don't try too hard to create a party atmosphere - let the food be savoured, keep the wine flowing, and add a touch of appropriate background music for the epitome of laid back evening entertaining!
PARTYTASTIC IS FOR SALE.
This website is for sale [more info].
You might also like...