Beach Party Without The Beach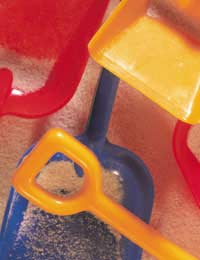 There's no need to let living miles from the sea stop you from having a beach party! With plenty of props a bit of imagination and maybe some California dreamin' you can bring the seaside to you!
Invites
Gets that fun in the sun beach vibe going from the start with funky, holiday themed invitations!
Make mini holiday brochure style invites, with lots of pics of golden beaches and palm trees!
Write your party details on a luggage label, using the reverse for your RSVP!
Print the invite on a plain piece of card or paper and stick it over the used side of old postcards from exotic locations!Scan in a favourite holiday or beach picture and add a 'wish you were here' caption - then detail on the back how the recipient could be!
Decorations
Raid the garden shed for all your beach-wares - wind-breaks, deck chairs, loungers, buckets and spades - anything that will give your garden or party room that beachy-feel. Add in fun props like flippers, snorkels, children's fishing nets, shells and pebbles.
If you have a paddling pool, fill it up and chuck in a few sea themed toys like plastic fish and little boats.
Add a tropical slant to your decorations with beautiful flower garlands, potted palms and bowls of exotic fruit.
Food
Depending on whether your party has a traditional British seaside theme or a slightly more luxurious Caribbean or Mediterranean flavour, you could go for either a simple 'beach-front café' spread with fish and chips, hot dogs and burgers with maybe a fun 'dessert' such as candy floss or sticks of rock. If your party is more 'paradise' than 'promenade' push the boat out with gorgeous seafood, exotic fruit platters and pitchers of fruit juices and non-alcoholic cocktails on each table, complete with tropical umbrellas and glace cherries on sticks!
Entertainment
If your garden or party room is big enough, set up a net for a beach volley ball session, or rounders. Inflate beach balls and put up a swing ball. Or fill a kids' sand-pit with sand, hand out some buckets and spades and have a sand castle building competition! You could set a quiz with a beach theme - simply search the web for facts and trivia about well known seaside towns and resorts and write questions around them (for example, Which seaside town's Royal Pavilion boasts Indian style architecture and an Oriental Interior? - Answer - Brighton!)
Dos and Don'ts!
Don't make beach or swimwear compulsory! Some people may find this so embarrassing they'll decline the invite - go for 'summer theme' dress instead! Provide flower garlands or 'leis' for your guests to wear around their necks!
Do have a contingency plan if you're holding your party in the garden - where can you decamp to if the heavens open? Have a space readily cleared indoors just in case!
Do have entertainment for all age ranges - some small children and older guests might not fancy volleyball or rounders!
Don't forget to leave out plenty of sun screen for your guests to use if your party is outdoors - ditto towels if you want them to take a paddle in your pool!
Do have a good selection of summer sounds on the stereo to encourage plenty of twistin' by the pool!
You might also like...
Well I would say they bring their own towels & sunscreen.good article though.
emkay
- 5-Apr-11 @ 3:39 PM