Race Night Themed Parties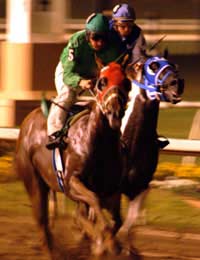 Bring the thrill of the racetrack into your own home for a totally fun and original party night!
What is a Race Night Party?
Basically your assembled guests will watch horse races and place bets on the horses they think are going to win - just like they would at the racetrack! Packaged race game sets are easily available from party supply companies, toy shops and department stores, or if you have your own recording and editing facilities at home, you could even make up your own race DVDs or video for personal use.
Your party guests will study the form, and put bets on their favourites horse, then watch the film and hope they're going to get lucky!
If you play with 'real currency' this kind of party can be an excellent way to raise funds for your favourite charity or school or club – or you could play just for fun with Monopoly money or reward the winner with a small gift or drink.
Putting on a Bet
Most of the boxed racing games you buy on the high street operate on a tote system for putting on bets and paying out winnings. This means that the person placing their bet pays their fee before the race and the amount is marked on their betting slip or race card. If you are using your party to raise funds, then you decide, as the bookmaker, what percentage of the money you are going retain for your fund-raising, so at the end of the race, you calculate your takings, take away the percentage you are keeping for your fund, then divide the amount that remains between those who backed the winning horse!
Incorporating Race Nights into Your Evening
If you are hosting your race night at home, you will probably want to hold it as part of a dinner party or buffet. Rather than have all your races at once, plan them around your food courses or around other activities, else once all the games have been played, you could find yourself struggling to keep your guests entertained!
Get into the spirit of a glitzy night at the races by offering welcoming drinks of Champagne or Cava. Maybe have some races playing on a DVD or video in the background. For fun set up a bookies stand for your guests to place their bets at, and have one person in charge of this.
So that everyone can get to grips with the rules and procedures, play an initial game just for fun before serving your starters or handing around your canapés or buffet food – this will give everyone a chance to 'break the ice' and ask any questions about 'going to the races'!
By alternating each race with either another food course, or drinks or cocktail nibbles, you will keep the momentum of the evening going, and allow for conversation and mingling between games – essential to stop your guests getting 'race fatigue' and losing interest!
At the end of the evening, announce your overall winners, perhaps awarding a small prize for the best and worst gamblers of the night!
PARTYTASTIC IS FOR SALE.
This website is for sale [more info].
You might also like...