Organising A Eurovision Party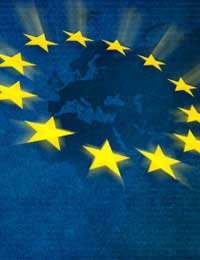 Looking for a totally original, off beat and completely fun theme for your next party or get-together? Want to really impress your friends?! Then you won't go far wrong with Eurovision! Eurovision comes but once a year, and as songfestivals go, it is the biggest and the best - and one hell of a good excuse to party! So whatever your taste in music, get your friends together, get networking and go Eurovision crazy!
Euro-History
Ever since its first airing in 1956, the Eurovision song contest has proved to be one of the most popular talent contests in the world – and if you want a fun filled party, forget X Factor, Pop Idol or just plain old karaoke style events – Eurovision is where the action is at!
Euro Party!
More and more people are enhancing their Eurovision song contest viewing pleasure by holding a party at the same time as the TV show - so get your invites out earlier to avoid a deathly hush of RSVPs as all your friends and would be guests whoop it up at someone else's do!
The whole point of Eurovision is fun - it's not meant to be serious (unless you are into tactical or political voting!) and your party should reflect this. Think cheezy pop, kitschness and general vulgarity in terms of decorations and fancy dress. Food could reflect the represented countries and the music should come courtesy of the television whilst the show is airing!
Entertainment
Encourage your guests to come as their favourite Eurovision entrant and give a prize for the most convincing fancy dress – there's dozens to choose from so your invitees shouldn't have too much trouble sourcing an outfit!
Think outside of the singers and bands too – there's Terry Wogan, the crazy host country presenters and blasts from the past such as Katie Boyle to emulate!
Name that Tune!
Eurovision parties are an ideal opportunity to showcase your own singing talents so make sure you have a karaoke machine or similar for when the show ends and your own Eurovision contest begins!
Make up your own song based games – name that tune, missing lyrics, charades based on Eurovision groups or song title – the options and possibilities are endless – arm yourself with a ream of Eurovision info from the internet and you'll be good to go!
But We've Missed this Year's!
You don't even have to restrict your Eurovision party to the actual Eurovision date – whose to say it can't be Eurovision party night every night?! Just source a load of Eurovision compilation CDs and you'll be ready to party!
A Eurovision party really needs very little preparation, specialist supplies, or themed party wares. With the TV show as your background sound, or appropriate CD if hosting your party outside of the actual contest time, plenty of food and drink, and a gaggle of guests in full fancy dress intent on having a good time, your Eurovision party is sure to go off with a bang – so no worrying over nil points!
You might also like...