Medieval Themed Parties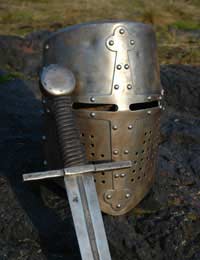 Jousting, hog roasts, jugglers, serving wenches and court jesters – just some of the things you might be expected to rustle up for your Medieval themed party!
Setting the Scene
No matter how much you want to set a realistic 'middle ages' backdrop to your party, there might be elements of Medieval life you will not want to replicate with utmost authenticity at your party – the food for example! In the Middle Ages, popular dishes included pottage – a type of oat based soup or stew, plain bread, fruit and vegetables and mutton! This would be washed down with water (often dirty!) and milk. If you were lucky you might have been allowed to drink some of the ale you brewed – but permission would be needed from your master!
Creating your party room can be as simple or elaborate as you wish: you could go with a basic tavern style, with wooden benches, old, bare tables, candlelight and a gaggle of serving wenches to attend to your guests! Use old jugs to serve your drinks and plain basic crockery and cutlery for your food.
For a more luxurious backdrop, go with a medieval castle theme, with lots of candlelight, tapestries, velvet drapes and perhaps even mocked-up suits of armour. You could even make some amusing gargoyles representing your guests and dot them over doorways and windows!
Medieval Munchies
Keep your party food inspired, or influenced, by Medieval fayre rather than driven by Medieval standards! A hot buffet could include roast pork, jacket potatoes, and salad. A cold buffet could take on a more modern twist, with regular party food served in a Medieval inspired setting with rich reds and opulent gold coloured table dressings, and 'natural' decorations such as twigs and berries, and vases of foliage festooning the table.
Drinks could include jugs of ale, beer or mead (also known as honey wine). For younger guests, or drivers, berry rich fruit cordials and squashes served in decorated goblets or pewter-style tankards will keep with the theme!
Feasts were a very popular way to celebrate and entertain during the Middle Ages (only amongst the wealthy, of course!) so keep your party table laden with goodies!
Dressing the Part
Encouraging appropriate fancy dress will really convey the Medieval theme and get the party swinging! Your guests might need guidance on what they should wear and what fits in with the period, so if possible enclose colour copies of Medieval costumes with your invitations – and remember, the Middle Ages takes in a lot of different styles of dress! Your guests could chose from chain mail suits of armour, Robin Hood style tunics, and Renaissance-lady long gowns.
Entertainment
Parties in the Middle Ages would have been riotous affairs that would have included jousting, juggling, dancing and tournaments between knights and noblemen on horseback! If your guests aren't quite up to a bout of fighting in the saddle, then set up some more genteel activities such as juggling competitions, dancing or jester-style joke telling!
For Children
For a children's medieval style party, a Robin Hood theme gives youngsters a recognisable sense of time and place, with a character they are familiar with. Dress a child's party room in an enchanted forest style setting with lots of foliage, woodland animals, and a 'fairytale' air. This could also work well as a smaller setting within an adult's medieval themed party to keep the little people entertained!
You might also like...