Magic Party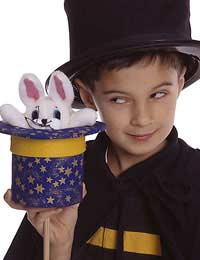 A party based around a magic theme can be great fun for children adults and mixed groups. Hiring a professional entertainer will of course make it all the more 'convincing', but any friend or relative who is willing to pull a few rabbits from hats or coins from ears will do just as well!
Invitations
Invisible Ink
Amaze your invitees with invisible ink invitations - write your invite out with a paintbrush dipped in lemon or orange juice, then slip in an envelope with instructions to heat with a warm iron to reveal the message! (Caution should of course be exercised where young children are concerned).
Bunnies in Hats Invites
Fold a piece of black paper or thin card and cut out a basic top hat shape. Glue along one side to make a pocket, leaving the brim of the hat open. Cut out a rabbit shape, and write the party details on it. Place inside the top hat.
Magic Wand Invites
Stick an A5 sheet of white paper with your party details onto a piece of plain black A4. Glue a white border approximately one inch wide along the long bottom edge of the black paper, and then roll the whole sheet up tightly (with the white edge on the outside, the party details on the inside) to resemble a magician's wand. Seal with a small 'sticky dot' or a tiny blob of adhesive.
The Cake
There are limitless options for a magic themed cake! If you are baking your own, the choices really are endless; you could go for top hats with emerging bunnies, pairs of dice or even playing cards - whatever takes your fancy! If your baking skills leave a lot to be desired, buy a plain iced cake and simply decorate it with magic-themed toppers or use icing pens to create a magic scene. Or how about an 'illusion' cake? A white chocolate iced cake with a dark chocolate centre or vice versa?
Entertainment
You could hire a professional magician or entertainer, or ask around your friends for volunteers - you'll probably be amazed at how many closet magicians come out of the woodwork! If you have a lot of people willing to volunteer their services, put on a variety act and give everyone a go - you could even host a 'Magic Idol' contest and crown your favourite at the end of the party!
Decorations
Cut outs of playing cards, top hats, dice, coins and wands will all add to the magic theme. A black and red colour theme will work well, as will creating an old fashioned theatrical setting - think dark red velvet drapes, gilt mirrors and picture frames. Photocopy or print out old playbills for magic shows to hang around the walls, or create your own with your guests as the stars!
Fancy Dress
Fancy dress for a magic party could be as simple as a traditional magicians' ensemble of dark suit, top hat and silk handkerchief, or a glamorous 'magician's assistant' get-up. But think of contemporary magicians too and how you could weave one of their 'trademarks' into your costume - TV's Jonathan Creek and his duffel-coat and plimsolls for instance or Paul Daniels and 'the lovely' Debbie McGee!
You might also like...