Wild West Party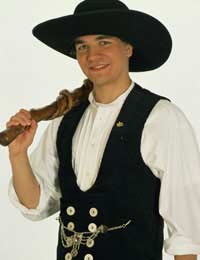 Yee-ha! Turn your house into a Wild West saloon and let those cowboys and cowgirls ride on in for a Wild West themed party! Get inspiration for your event by having a look at some online 'wild west' resources such as the National Cowboy Museum in Oklahoma.
Invitations
Let your imagination run riot - your invites could be made to look like anything from cowboy hats and boots to whisky bottles (with the invite on the label) to saloon doors which swing open to reveal the party details! Or how about wanted posters or sheriffs badge designs?
Dress Code
Your Wild West party theme can carry a whole range of costumes, from traditional 'Cowboys and Indians' through to Mexicans, saloon girls, and sheriffs! For a very basic costume, you'll only need a toy gun and holster and a cowboy hat, which cost pennies from toy shops and costume suppliers. For a more adventurous and way-out costume, consider hiring from a professional fancy dress outlet or finding a pattern and making your own one-off creation!
Decorations
There are plenty of online party supply companies selling scene setters and props for wild west themes, but you can easily - and cheaply - create a convincing 'set' from things you probably already have at home. Decorate ledges and windows sills with cactus plants; if your party room has a hard floor or tiles, sprinkle the floor with sawdust. Set up bales of hay for people to sit on, rope of an area as a corral, and put up wanted posters, and old fashioned signs around the walls (like bar room, blacksmith, county jail!) Hang cowboy hats and lassos on chair backs or behind doors, and if you have access to any horses tack, use that to set your scene too!
Music
Well your music of choice is undoubtedly going to be country and western! Go for popular artists that people know and recognise, rather than obscure 'tribute' CDs or compilations of tracks no one has heard of! You probably won't go far wrong with Johnny Cash, Tammy Wynette and Dolly Parton!
Food
Treat your guests to a tex-mex buffet. Serve nachos (tortilla chips with melted cheese) salsa, guacamole and sour cream dips, refried beans, taco shells filled with spicy minced beef or chicken strips, alongside big bowls of chilli con carne and salads.
Drinks
Have a wide range of wines, beers and soft drinks available, but keep to your theme and liven up your buffet with pitchers of margarita cocktails (lemon or lime juice, tequila, and a fruit liqueur) or shots of tequila to give an authentic feel to your party!
Entertainment
If space permits, and funds allow, you could always hire a bucking bronco for your back garden, or set up your own rodeo! Keep young children amused with rocking horses and hobby horses in a roped off area of the garden - ask guests who are coming with small children to bring 'horse' themed toys and you'll end up with a ready made, fully equipped play area. For adults, you could set up card games in your 'saloon', or have quiz and trivia competitions based on western movies. Or how about a country and western karaoke?
You might also like...