Fancy Dress Party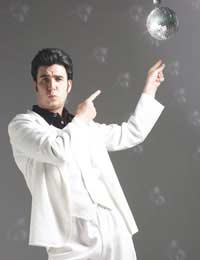 There's not many people who don't love a fancy dress party! And organising one can be just as much fun as attending one - plus you get to decide the theme!
A few years ago fancy dress parties tended to fall into predictable themes like tarts and vicars and schoolboys/girls purely because the outfits were easy to source or make up from clothes the guests already had at home, but with fancy dress hire shops now prevalent in most towns, and all kinds of costumes being easily available on the internet, there's no longer any need to be restricted to the tried and tested!
Themes
Anything goes! It can be tempting to just put 'fancy dress' on your invite and leave guests to decide for themselves what they should wear, but specifying a dress code will actually make it easier for your invitees - plus they won't have all the anxieties of what's appropriate, what will everyone else be wearing etc.
Popular themes include:
Seventies Night - think disco style outfits, white flared suits for men, afro wigs and short glittery dresses for women, or suggest characters from a seventies film like Abigail's Party.
Gangsters and Molls - always popular - a chance for the women to glam up in 1920s flapper style costumes and the men to spiv it up in sharp suits and hats! Think Bugsy Malone but for grown ups!
Super-heroes - from Batman to Catwoman, Superman to Wonder Woman, everyone loves the chance to shine as their favourite super hero!
Wild West - cowboys, cowgirls, Pocahontas and saloon girls - this allows a good dressing up opportunity for all age groups! You could tie it in with a western movie too for even more fun!
Pirates and Buccaneers- not just popular with the children, a pirate fancy dress will appeal to all ages, how about going for characters from the Pirates of the Caribbean film?
Robin Hood - Maid Marian, Little John, Robin of Sherwood - this is a great theme for mixed age group parties.Musketeers, Bandits and Highwaymen/women - or even Mask of Zorro bandits!
Age Groups
Most types of fancy dress party can be adapted to suit all age groups, but do consider your guests' ages before insisting on certain themes - Granny may not want to be a naughty nurse any more than Grandad will be willing to step out in an adult nappy and dummy! If people feel self conscious in their costumes it's going to inhibit their enjoyment - always go for a theme that will be fun for all concerned.
Setting the Scene
A few props that tie in with your costumes will really create a party atmosphere and get your guests in the right mood! 'Scene setters' can be bought relatively cheaply from party shops, but with a bit of imagination and some large pieces of cardboard, it is easy enough to paint your own 'scenery' to liven up your party room. Some themes will require minimal set dressing - a seventies night for example can easily be staged with a few mirror balls (or mirror ball style decorations) and some appropriate nibbles set out on side tables - cubed cheese and pineapple on cocktail sticks for example. For gangsters and molls, set up card tables with playing cards, or a roulette board, and for fun, how about a few wanted posters with your guests faces on?!
Doing a quick internet or encyclopedia search on 'wild west' or 'highwaymen' will have you brimming with ideas for simple decorations and props!
Invites
Design invites around the costumes - print the actual text out on plain paper then stick it on to a cut out that reflects the fancy dress theme - a platform shoe for a seventies night, a Stetson for the wild west, a pirates chest (with the invite inside) for pirates and buccaneers!
A fancy dress party gives you the chance to really run riot with your imagination and creativity - give yourself plenty of time to organise and plan your big night and really go to town with your props and costumes for a party people will be talking about for years to come!
You might also like...