Halloween Party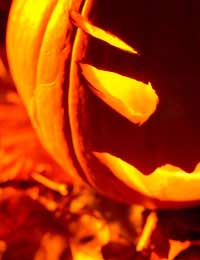 Halloween parties are great fun for all age groups giving plenty of opportunity for dressing up, playing games and having outrageous decorations around the house!
Invitations
Send your invites out early - bear in mind you won't be the only person hosting a party on October 31st!You can really go to town with your invitations - and home made is definitely best, as you can get really creative. Try black bat cut outs folded in half with the party details written on the inside, coffin shaped cards with the party details under the lid, gravestones with the invite 'engraved' on the stone! The ideas are limitless!
Decorations
The stores are awash with Halloween decorations, usually from about August onwards! Although you can buy lots of excellent kit to deck your house out with, like vinyl scene setters to stick on the walls, pumpkin and ghost shaped party lights and foam axes and daggers, there's lots of things you can make yourself too. Cut headstone shapes from large sheets of stiff card to stick in your front garden cemetery style. Dress up large dolls in ghostly costumes and dot around the house. Drape fake cobwebs (easily available in canisters or packets from party suppliers) all around your ceilings and light fittings, and swap bright lightbulbs for flickering candle style or low wattage red ones. Buy a pack of plastic bats and suspend them from your ceilings and door ways. Windows paints, which set to a plastic like finish and can then be peeled off, can be used to paint scary designs on windows and door panels - and if you have a fanlight above your door, give your home a suitable name, like the House of Horrors!
Food
Halloween party food is great fun to prepare and needn't be any more difficult or expensive to source than a normal party buffet - the trick is just to present it in a creepy manner! Label all your food for added fun - mini pizzas could be dried scabs, cocktail sausages drizzled in tomato ketchup could be severed fingers, and olives, green or black, cut in half, monsters eye balls!
Costumes
Everyone loves dressing up for Halloween, and most of the big stores now do a roaring trade in adults and children's fancy dress, but for something more original and one off, create your own costume. Take inspiration from horror films, historical figures and science fiction to make a truly scary get up - and remember, it really doesn't take much more than a liberal splash of fake blood and a quick spritz of cobweb spray to turn almost any outfit into a Halloween get-up!
Top Tips
Get your invites out early!
Keep an eye out all year round for suitable props to decorate your home - even charity shops and car boot traders will put their prices up on their spooky bits around Halloween!
Source large sheets of stiff card to create ghostly figures, gravestones and coffins.
Make or buy a CD of ghostly noises to have on in the background - wailing, screaming, creaking chains and howling beasts will all create the right effect!
Dress your food as well as your house! Use icing pens to write scary messages on cakes and biscuits, buy jelly sweets in the shape of snakes and bugs to put in green jelly before it's set, or to just have laying over your plates of food!
Halloween is great fun for everyone - who can resist dressing up themselves and their home for a night of scarily good fun?
You might also like...