Garden Camping Party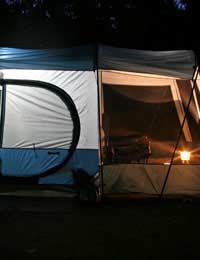 The thrill of camping out in the back garden during the long summer holidays is unsurpassable for children! The perceived freedom and excitement of sleeping under the stars in the great outdoors holds huge appeal and is a fantastic way to celebrate a birthday or other special occasion. A camping party is guaranteed to delight even the most difficult to please youngster!
Preparation
This kind of party is really just a sleep-over with a twist, and will appeal to boys and girls – and even adult groups too! A camping party doesn't require lots of planning or preparation either - just a bit of common sense and a few tents and sleeping bags!With children, safety considerations are paramount, and your invite should make it clear that children will be supervised at all times, and advise parents of the structure of the party and the 'running order'.
Invitations
Go to town with camp style invites: make paper tents or sleeping sleeping bags with openable flaps with the party details underneath, or write the info on a tent shaped piece of canvas.
Games
Start the party-vibe going from the offset, with a tent-erecting competition. Divide the guests into groups to assemble the tents and kit them out - just make sure their durability gets checked over before bedtime!
Organise 'camp fire' type games like story-telling and sing-songs, especially good if someone can play the guitar!
Food
Older children and teenagers will enjoy preparing their own food, again with suitable supervision. Set up a bar-b-que and cook a simple outdoor party meal – but keep younger children aware from cooking areas and sources of heat.
What Will I Need?
You will need enough tents for all your guests! Younger same sex groups will doubtlessly want to huddle up in one tent, so beg or borrow a family size one to accommodate them all comfortably! Request that the children bring sleeping bags or inflatable mattresses and duvets with them, and lay on plenty of extra blankets – they will be certain to wake up cold even on the warmest summer's night!
Disposable bar-b-ques are excellent for cooking quickly for small groups – buy a few and use as needed. Keep one separate for any veggie members of the party!
Think about practicalities: what will the toilet arrangements be? Are all gates and fences on your property secure? Will a kitchen or back door be left open for the children to enter the house during the night, or will one person be entrusted with a key? Have the children been briefed as to what to do if they get scared or need assistance? Do they each have a torch and spare batteries? Leave outdoor garden lights on for reassurance – or even decorate trees and bushes with weather-proof fairy lights.
If it Rains....
Have a contingency plan just in case the unspeakable happens and the heavens open! Suggest younger children decamp to a conservatory or sitting room and build an indoor camp – which in itself makes for a fun indoor camping party at any time of the year! For older children and young adults, simply bring the party indoors and push sofas and chairs back to make a enough floor space to accommodate sleeping bags and cushions!
You might also like...