St Patrick's Day Parties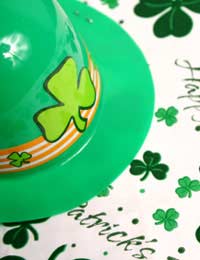 March 17th is St Patrick's Day, and celebrations are not just reserved for those residents of the beautiful Emerald Isle. Why not create your own little bit of Ireland in your own home by throwing a good, old fashioned Irish knees up in honour of one of Eire's patron saints! There's few people who can resist a St Patrick's Day celebration, and here's how to organise yours!
Preparation
The key to celebrating annual events is to plan well in advance! If you have a lot of Irish friends - or just a lot of friends who like to celebrate St Patrick's Day - then you will need to get your invites out in a timely manner. Likewise, if you wish to hold your party at a particularly venue - make your booking in good time, else you might find all your favoured establishments fully booked up on St Patrick's Day!
Invitations
Practically every party store and card shop has a myriad of St Patrick's Day merchandise these days, so pre-printed invitation pads and cards are very easy to come by, but for a more personal, original and one-off invitation, make your own!
Decorations
Depending on what sort of event you are planning - whether a more formal party at a venue, or a casual house party in your own home, you will no doubt want to put up some St Patrick's Day themed decorations, even if it is just some green balloons and Eire flags!
You could really go to town with backdrops and wall decorations, such as leprechauns, giant shamrocks and green tinsel door hangings. All are easily available both on the high street and on line.
> Refreshments Lay on plenty of traditional Irish drinks like Guinness and Irish Cream, Black and Tan (made from pale ale and stout or porter) Irish coffee and Irish whiskies. Soft drinks should be readily available for the non-drinkers! Why not make some fruity green hued cocktails labelled with fun names?
Ireland is famous for lots of lovely, filling hot dishes which are perfect for hot buffets or sit down meals - substantial and comforting, they will offer a tasty and authentic feel to your party!
Dishes to try:
Colcannon - like Bubble and Squeak, made from potato, garlic, cabbage or curly kale.
Champ - mashed potato with spring onions.
Irish Stew - great for hot buffets.
Coddle - boiled pork sausage and rashers of bacon layered with sliced potato and onions - another perfect hot buffet dish.
Serve hot buffet stews with plenty of soda bread, wheaten bread, blaa and soda farls.
Fancy Dress
Most of your guests will undoubtedly turn up at your party with the obligatory green wig, green bowler hat or leprechaun costumes! For younger guests, you could set up a craft corner with plain hats for them to decorate, or leprechaun pictures for them to colour in or decorate!
Entertainment
Load your CD player with classic Irish music, hire traditional Irish musicians and prepare for a stampede on the dance floor! Keep the hits rolling, crank up the volume and the party will run itself!
You might also like...