Kid's Christmas Parties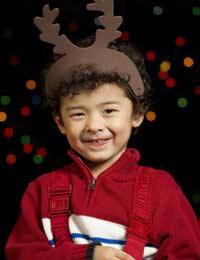 Whether you host it at home school, playgroup or in a hired hall, a Christmas Party is the perfect way to indulge children's insatiable excitement in the run up to the Big Day.
Invitations
Get your children to help make the party invites. Let their imaginations run wild with last year's Christmas cards to cut up, plenty of glitter, sequins and short lengths of thin tinsel. Once they have designed the front of the card, simply write the party details inside.
Other festive style party invites:
A parcel shape cut out which opens to reveal the invitation
A snowman with the party details tucked into his hat
Santa with a lift up tab on his present sack with the invitation written underneath
An advent calendar style invitation with the details under the individual doors
Games
Traditional party games will work well at a Christmas party, and most can be adapted to suit the theme. Pin the red nose on Rudolph and pass the Christmas present are sure to get all the little guests into the party mood!
Decorate the Christmas Tree
You'll need:
A big box of child friendly Christmas decorations (i.e. no glass baubles)
An egg timer
Several children, paired off.
Against the clock (or egg timer!) One child is the decorator, the other child the Christmas tree.
The box of decorations is placed in the middle of the room, and the decorator can take one item at a time.
Once the time is up, the winning pair are the twosome who have the neatest tree with the most decorations on!
Build the Best Snow Man
You'll need:
A dozen rolls of value (cheap!) Toilet roll
Carrot shaped cut out with double sided tape stuck on the back
Button shaped cut outs with double sided tape on the back
Long twigs, or long strips of cardboard for arms
A hat and scarf
In pairs, the children have one minute to turn their partner into a snowman, by wrapping them from head to toe in white toilet paper, sticking on buttons, carrot nose, scarf, hat and twig arms!
For older children, you could make it more difficult by getting them to turn themselves into snowmen in the same manner!
Party Food
Christmas themed food is around in abundance during the party season - everything from gingerbread Santas to boxes of chocolate snowmen and reindeer droppings!
Instead of a traditional buffet, why not make individual lunch boxes up for each child - these result in much less waste, and more control over how much sweet stuff is consumed! Flat-packed cardboard lunch boxes which pop up into a closeable cartons are brilliant for children's events and can also be used for their going home gifts afterwards. They are the perfect size for an assortment of sandwiches, carton of juice, piece of fruit and cake.
Going Home Presents
Parents will undoubtedly be despairing at the thought of the influx of all those toys come December 25th, so don't add to their misery by filling your party bags with plastic tat! Going home presents can be as simple as a piece of cake, a balloon and a photograph of the 'party gang' taken and printed out during the party.
Little packets of wildflower seeds to plant also make brilliant going home presents, or, if you want to keep things Christmas themed, a special decoration for their Christmas tree, or a pair of festive style socks - in other words, any sort of gift that will last longer than a bag of sugary sweets and a plastic spinning top!
Special Guest!And whatever you do, don't forget to have that 'special guest' ready and waiting to appear towards the end of the party with a big sack of goodies to hand out!
You might also like...