Planning and Hosting a Great New Years Eve Party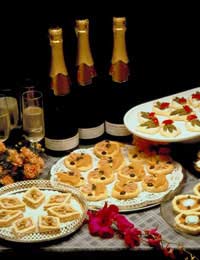 New Years' Eve is the party night of the year; the big one that everyone looks forward too. So how can you make sure yours go off with a bang and is talked about for the next twelve months?
Perfect Planning
Plan well ahead - people usually end up being invited to several New Years' Eve parties, so get your invitations sent ahead of time and put a cut off date for RSVPs so you know numbers for catering.
Think about any special items or equipment you may need to purchase or hire for your event (such as extra glasses) and organise it as soon as you can.
Ingenious Invites
Go for a funky, fun design that'll stand out from all those Christmas cards on your guests' mantelpieces!
Nifty Numbers:
Fold a sheet of card in half (landscape) and pencil the numbers of the forthcoming year across it. Cut out in one piece and cover with multicoloured glitter. Write your party details inside.
Party People:
Assemble a collage of photos from previous NYE events and scan the image into your computer. Either print out on 6x4 photographic paper and use post-card style for your invitations, or impose onto a whole sheet of A4, and fold either landscape or portrait with your party details inside.
Other Ideas:
Put your invite into a mini cracker or write on a deflated balloon, make an official 'ticket' style invite, or really push the boat out and make new labels for mini bottles of champagne with your party information on!
Food
New Year's Eve is generally everyone's last big blow out before all those healthy eating New Year's resolutions kick in! Empty your cupboards of all your remaining Christmas fayre and stock up only on essentials - chances are you'll have very little to buy!
Generally, a party buffet works best for NYE parties - people have usually just about had their fill of formal; sit down meals by December 31st! Go for nibbly party food that guests can help themselves too, such as mini spring rolls, samosas, and blinis, along with salads, cold meats, quiches and flans.
Entertainment
If your party is a big family affair with children to entertain as well as adults you may want to lay on some games and amusements to keep them occupied - a PlayStation or Wii set up in another room will usually do the trick! At this time of year, adults will generally just want to kick back, relax and have a drink, a dance and good conversation. Stock up on party compilation CDs and keep sounds going on a loop to avoid sudden and awkward silences, but also set up seating and tables in a quieter area too for those who just want to sit and talk.
Since the millennium celebrations, fireworks displays have become de rigueur for seeing in the New Year. If you choose to end your party with a pyrotechnic display, be aware of local bylaws on the times you can and can't let them off, and give yourself plenty of time to set them up before the clock strikes twelve!
After all your hard work, sit back and enjoy your party - and get that champagne flowing - you've got twelve months to recover!
You might also like...