Easter Parties for Kid's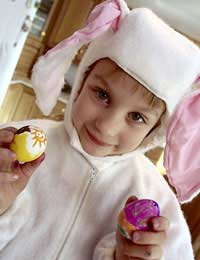 Spring is a wonderful time of year for children with lighter evenings, blossoming trees and exciting changes in nature - and of course, the Easter break! Why not celebrate with an Easter Party?
Invitations
Easter party invitations can take on any of the themes associated with spring as well as the more traditional Easter images. You could go with bunnies, lambs, chicks, ducklings and, of course, eggs! Get your children involved in making the invitations - cut out appropriate shapes for them to decorate, and then write in the party details on the back.
Party Games
Easter Egg Hunt
The traditional Easter egg hunt is great fun for children and adults alike! Hide eggs (real, ornamental or chocolate) throughout the house and garden, and give each participant a basket or even an egg box in which to collect as many as they can find. Reward the winner with a real chocolate egg, with smaller, mini eggs as consultation prizes for the other players!
Pin the Tail on the Bunny
An Easter themed variation of pin the tail on the donkey, this game simply needs a large bunny shaped cut-out, and a fluffy cotton wool tail! Blindfold the players one by one, turn them around two or three times, and have them fix the tail into position!
Easter Crafts
Craft tables are always popular at children's parties. Set up an easy-to-clean corner (or even a spot in the garden!) and provided an assortment of brightly coloured card and paper, tissue paper flowers, child-friendly glue, glitter and paints, and let the children make Easter inspired pictures and crafts. How about organising an Easter bonnet making competition culminating in a parade?
Egg decorating will keep children entertained for hours - with a needle; carefully make a tiny hole in the top of a raw egg, and a slightly larger hole at the bottom. Blow through the smaller hole until the egg is empty. Rinse through with clean water and store in egg boxes until required. To decorate, use any assortment of ribbons, beads, sequins, paints and glitter. A few coats of clear varnish or PVA glue will toughen the egg up a little once finished!
Easter baskets are easy for children to weave out of strips of brightly coloured paper - make one in advance so children can see the basic shape they are aiming for, then just simply staple their woven paper into a basket shape with a strip of paper across the top to form a handle. Fill with mini eggs and other treats won from party games - or use as their going-home goody bag!
Food
Children can get involved in a lot of the preparations for Easter inspired food, or you could even have some simple baking as a party activity. Easter nests are really easy for children to make, and fun too.
You'll need:
Shredded Wheat cereal
Melted chocolate
Mini Eggs
Cake cases
What to do
Simply shred up all the wheat, stir into melted chocolate, spoon into cake cases and decorate with mini eggs!
Alongside all the regular party food, serve decorated plain or gingerbread biscuits iced with bunny and rabbit faces, (or let the children do them as an activity) hot cross buns and Simnel cake.
Party Bags
At the end of the party, send your guests home with an Easter themed goody bag. Either use a shop bought bag, or, if you've made Easter baskets, fill those with little treats, like chocolate eggs, mini slices of carrot cake and bunny shaped novelties like erasers and pencil toppers.
Happy Easter!
You might also like...