18th and 21st Birthday Parties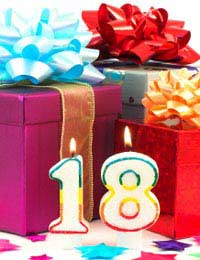 Eighteenth and twenty first birthdays are real milestone celebrations and are usually marked in style with huge get-togethers for family and friends.
Planning
Planning is always the key for a great event which runs smoothly. In terms of organisation, an important birthday like an 18th or 21st, is going to take up a lot of time, so delegate tasks, and make the planning a family affair.
Once a date has been decided, make choosing your venue your top priority. See our page on picking the perfect venue for ideas and inspiration.
Of course, not everyone will want a huge party – some people might find the thought of being the centre of attention for an entire evening too much to bear, or will simply want to mark the occasion with a small gathering for their nearest and dearest. Keep that in mind if you are the enthusiastic parent, friend or partner organising the bash – what you would like isn't necessarily the same as what the birthday boy/girl will enjoy!
If you're unsure about what type of party to have, find out what sort of events friends and relatives have held and what worked and what didn't - for instance, you may discover that hiring a limo and doing a crawl of all the local night spots was deemed, with hindsight, as a bit of waste of money, or that certain venue's party packages did not live up to expectation.
Invitations
Eighteenth and twenty first birthdays should be a celebration for the whole family, not just an opportunity for the celebrant to party with their friends! Grandparents, godparents, extended family and people who have been significant in the young person's life so far should all be part of the big night.
The style of invitation will depend on the type of party you are hosting, but generally, a formal invitation, sent well in advance with the request of a RSVP would be advisable. If there are maps for the venue, details of local accommodation and a present list, include them with it.
Cakes
A huge cake is often the centre piece of any birthday celebration and designs for eighteenths and twenty first are usually that bit bigger, bolder and more extravagant. Many bakers and cake designers will have catalogues for you to chose a design from, or you can dictate your own from scratch. Picture cakes with the party guest as a baby combined with an up to date shot are always popular and relatively cheap to order through most supermarket chains. Try and have your RSVPs in before you order your cake so you can ensure it will be big enough - and allow for extra to box and send to those who couldn't make it or friends and relatives overseas.
Themes
Having a theme can really add an element of fun to a party - it's also a great ice breaker and a sure fire way of keeping conversation flowing - even if it's just about so-and-sos fancy dress, or 'where did you hire…?' type questions! Pick a theme that everyone can join in with and enjoy and consider organising some entertainment that will go with it - for instance, a casino at a glitzy black tie event, or a bucking bronco for a wild west party! Check out local hire companies and see what you could bring into your party space - usually anything from adult sized bouncy castle to inflatable sumo wrestling rings!
Eighteenth and twenty first birthdays should be celebrations that are remembered for a lifetime - and make sure that the camera and camcorder are at the ready to record every moment!
You might also like...