Kid's Parties (Under 5)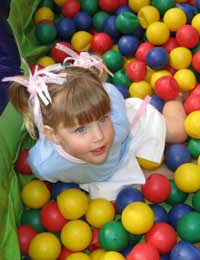 Organising a birthday party for kids under 5 can seem a daunting task! If the thought of planning games and entertainment for a houseful of rampaging youngsters seems to much to bear, read on for some insider tips!
Have a Theme!
Pirates and Princesses
Pirates and Princesses always works well as a theme for younger children - films like Pirates of the Caribbean and the wide range of associated merchandise have made pirates very appealing to youngsters! It's also an easy theme to adopt for a party - the fancy dress is readily available - most little girls have a princess style dressing up outfit already, or one can easily be made or adapted from an existing party dress.
For boys, Pirate accessories are cheap to buy on the high street or can be made at home very easily, with just an old pair of trousers cut down with ragged hems, an eye patch and a bandanna. Party games can include all the old favourites but with a pirate theme - musical chairs becoming musical treasure islands with island shapes taped security to the floor, pass the parcel becomes pass the treasure chest! Use plain brown paper bags with treasure maps drawn on for party bags.
Garden Party
A garden party is ideal if you have active children who need to let off steam. If space permits, hiring a bouncy castle, bubble machine or ball pit will ensure that children are kept entertained. Outdoor games like beanbag races, skittles and relays can replace traditional party games, and give the children opportunity to work up an appetite for the birthday tea! Food can be served picnic style on rugs on the ground. For very young children, the same idea can be used around a teddy bears picnic theme.
Fancy Dress
It can be quite tricky deciding a fancy dress theme for younger children - just because your child is into, say, Spiderman, it doesn't mean that every other child at his nursery will be! If your son or daughter is desperate for their party to be themed along one particular character, widen the brief for the guests - for example, if your little boy is Bob the Builder mad and wants a Bob themed bash, invite the party guests to come as their favourite children's TV characters, thus making children's TV the theme.
Food
You can guarantee that whatever healthy food you laden the table with, it will only be the plates with cakes and biscuits on that get cleared! Offer a small selection of food for children's parties - they really don't need six different types of sandwich. Perhaps go for one vegetarian (egg or cheese) one meat (ham, nothing fancy) and one fish (tuna or paste) and crudités and dip, (lots of raw veggies like carrots, celery and red peppers with a mild salsa or guacamole). Offer the savoury food first and bring the cakes and biscuits out after if you want to avoid sugar rushes!
Party Bags
Party bags can cause parents and party-throwers no end of worry. Whereas once upon a time a slice of cake and a balloon was all that was required, nowadays, parents seem in fierce competition to send party guests away with the most indulgent and no-expense spared offering. Considering most of it will be dropped between the car seats on the way home, there really is no need to break the bank with going home gifts.
Most of the big supermarkets sell excellent value pocket money toys that are perfect to slip into party bags - think along the lines of a tub of playdough or modelling clay, packs of crayons and a notepad, little friction cars - go for robust, practical toys rather than cheap, plastic novelties that are either broken or discarded within minutes of opening.
And don't forget…To relax and enjoy the day - children's birthdays should be fun for the parents to!
You might also like...