Bar Mitzvah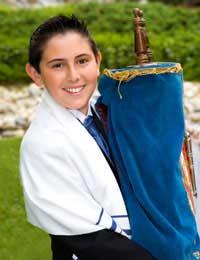 A Bar (or Bat) Mitzvah is a ceremony held in the synagogue to admit a Jewish boy (or girl) into the adult Jewish community. It follows the successful completion of study in Judaism. For a girl the term Bat Mitzvah is used.
For boys the Bar Mitzvah is held at 13, and a girl at 12, however, it is not a required ceremony and according to the website jewfaq.org 'the elaborate ceremonies and receptions that are commonplace today were unheard of as recently as a century ago'.
As the Bar Mitzvah marks such an important stage in a young persons life, the stops really need to be pulled out for the celebratory reception afterwards!
Music
Hiring musicians for the reception might sound extravagant, but is common place for such an important celebration. However, it needs to be organised and confirmed well in advance. Decide what sort of music you want for the party and discuss with the musicians what they can provide – a good mix of traditional Jewish music and pop or classical would offer something for everyone and ensure a packed dance floor!
Food
Again, catering is something that needs as much advance planning as possible. Ask around your community for recommendations for Kosher caterers who are used to doing Bar Mitzvah celebrations and see a wide range of menus and samples before making your final choice. Likewise, your cake should be organised and ordered well in advance.
Decorations
Many party supply companies provide partyware and decorations for Bar Mitzvahs - everything from Star of David confetti to paper plates and helium balloons, however, decoration is of course very much down to personal choice. Blue and silver colourways seem abundant for Bar Mitzvah decorations, but don't let yourself be limited to what is available commercially – most supply companies will be able to provide your decorations in the colours you particularly favour if the order is large enough.
Gifts
If you are attending a Bar Mitzvah as a guest, you may be wondering just what to give as a gift! Some parents will have set up a gift list for their son or daughter with a department store, or may provide a gift list with your invitation. Traditionally, Jewish books and ritual or ceremonial objects are given, but nowadays it is acceptable to offer money or other presents. If in doubt, check with the child's parents or Rabbi as to what would make an appropriate present. Whatever you decide to give, the gift should be given at the reception after the ceremony, and not at the service itself.
Schedule
Not sure how to actually run things on the day? Overwhelmed by caterers, musicians, cake ordering and gift lists?! If you write out a schedule in advance, you will at least have a rough idea of how things will pan out, even if it doesn't run entirely to plan on the day! Details will, of course, depend on individual wishes and requirements.
When planning your schedule, start by writing down all the things that have to happen no matter what (E.g candle lighting ceremony, speeches, cake cutting, mother-son dance etc) then check your time availability to add extras, like, for example, party games to keep the younger children amused, a video or DVD presentation of the boy or girl life to date. A Bar Mitzvah is one off event in a child's life, and will stay with them forever. Make sure their passage into adulthood is one to remember!
You might also like...