House Warming Parties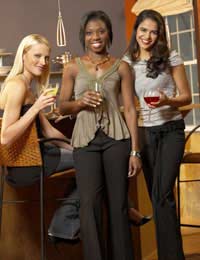 When you move into a new home, you might think you need everything ship-shape and Bristol fashion before you start entertaining or inviting guests around - but if you are planning a house-warming party, you might just want to get it out of the way before your brand-spanking new cream carpets go down, or the white leather suite arrives!
If you are moving into a brand new home, and everything has already been fitted out to your specifications, then you'll probably be good to go straight away, and keen to show your new pad off to your friends and family. But if your house is a work in progress, there's really no better time to party - don't let its un-decorated state put you off partying - better the red wine spills and paint-work scrapes happen then rather than once it's all finished!
If it's More Half-Way House than Show Home...
Organise your house warming party as soon as you can bear after you have moved in - leave it too long and the impetus will have worn off and it'll just become a general 'do'!
Don't worry about the living room being littered with packing boxes, or the bedrooms resembling junk yards - just cover the boxes and packing cases with throws and sheets and use them as make-do table tops!
Don't even contemplate laying on a full spread unless you are completely unpacked and fully equipped in the kitchen - your guests will not be expecting a mediaeval style banquet. Better still, if the weather permits, head out to the garden and throw a barbecue party instead!
Showing off your Show Home
A brand new home, complete with the smell of fresh paint, and ultra shiny fixtures and fittings, is a joy to behold, and you'll no doubt be dying to show your friends around before the sheen has worn off of all the newness! You might also be concerned - and rightly so - about hosting a big bash in your brand new surroundings. Consider carefully what sort of party you want to have. If you are worried about too much merriment and havoc being wreaked in your new home, then consider a more sophisticated event like a dinner party or garden party. Keep it low key, but luxurious, with soft lighting, indulgent food, and keep the mood fun but decadent rather than over-excited and debauched! You'll be glad the next day when you're not sponging stains off the sofa...!
Organising
Give yourself time to settle in before throwing your party - having it on the evening of your moving day might not be the best of ideas! Steer clear too of days where other stuff is going on in the house - if you are having new white goods plumbed in for example, arranging your party for the evening of a day when you've had workmen in and out could prove extremely stressful. Choose a date and clear your diary either side of it, giving you time to plan and prepare beforehand, and tidy up and recover after!
House-Warming Gifts
Your guests might ask you what you would like as a house-warming present. Resist the temptation to say flowers - if each of your guests brings a bunch you could end up with twenty floral sprays, no vases and no free surfaces to put them on. Plus if you have works commencing, they could end up spoiled very quickly. Outdoor plants, trees, or garden ornaments are better ideas - or simply tell your guests to bring a bottle in lieu of a gift!
You might also like...