Drinking Games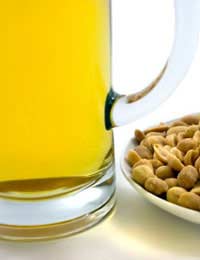 If musical chairs and pass the parcel don't quite cut the mustard for your adults only party, then how about brushing up on your drinking game prowess – all you need is a bunch of willing mates and a good supply of your favourite tipple!
Peanut Racing!
You need to like beer and peanuts for this one, though any nut and drink combo could be used – just check the nut floats well in the drink before you start! Line up a pint of beer for each player and a peanut. On the count of three, the players drop their peanut into their pint – the player whose peanut rises to the surface last has to down their pint in one! Once they have finished, their glass is refilled and the game is continued!
Fuzzy Duck!
The players sit in a circle with their drink in front of them. The oldest (or youngest, or fattest or thinnest...) person starts by saying 'Fuzzy Duck' to the person next (to the left) to them. The game needs to gather pace and momentum, and players should speak as quickly as possible. 'Fuzzy Duck' continues until someone says 'does he?' at which point the next person must reply 'Ducky Fuzz' instead. The game will continue as 'Ducky Fuzz' until a player says 'does he?' and it will revert back to Fuzzy Duck. Still with us?! The idea is for the games to swing along as fast as possible with no one getting tongue-tied – when someone does and says the wrong thing (which will be entertaining enough in itself!) they must finish their drink in one go. The winner is the person who is left with a full (or full-ish!)glass.
Beer Pong!
You'll need a table tennis table and two willing players for this game. Oh, and large amounts of your favourite drink. In the middle of each players court, place an open topped container (mug, pint glass, beaker etc.) full to the brim with their chosen drink. The players then play table tennis in the normal way, but if they hit they hit their opponents drink they must take a swig of it. If they knock the drink over or flip it in the air they must take two swigs. In the course of the regular table tennis game, for every point they score, their opponent must take a swig of their own drink. If the ball lands in the drink, then whoever hit it in has to finish the whole amount. The winner is whoever has the most drink left in their mug/glass at the end of the game!
Film Fun!
So you're watching a DVD with your pals and the wine and beer are flowing – why not liven up the proceedings by suggesting a little drinking competition? Drinking games based around films are great fun – and really easy to do. Decide on a word or action that frequently occurs in the film, and every time it is said or done, you have to have a drink. For instance, if you're watching Pirates of the Caribbean, you have to take a swig every time Johnny Depp says 'Savvy'! There are loads of websites devoted to film based drinking for the definitive list or make up your own to fit in with your favourite flick!
Whatever game you play, remember to always drink in moderation and know your own limits! The kudos of winning every game could be somewhat soured if you have the hangover from hell for the rest of the week!
PARTYTASTIC IS FOR SALE.
This website is for sale [more info].
You might also like...