Cocktail Party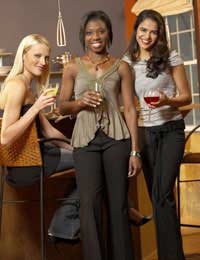 Cocktail parties can either be the epitome of grown-up serious sophistication or simply a fast and frivolous drinks party!
Planning
You need to decide whether your cocktail party is the 'warm up' for a dinner party, or a separate function in its own right. Make it clear on your invitations what the start and end times are - many people will not be familiar with cocktail party 'etiquette' and will assume it is just a regular drinks party with an open-ended invitation. Also let people know about eating arrangements - traditionally, cocktail parties will end before dinner, or start after.
Decorations
Cocktail parties are usually all about elegance and simplicity; keep your party room sophisticated and clutter free with minimal 'partyware'. Flowers and candles on side tables and mantelpieces will set a formal tone without being overdone.
If you are choosing a cocktail party just as the theme rather than 'atmosphere' of the event, you can afford to go to town with more over the top retro type styling - check out party suppliers for fun items like indoor sparklers, flamingo cut outs and pineapple shaped ice buckets!
Food
For a proper cocktail party, food should be kept simple - go for hors d'oeuvres and canapés handed around on trays - a great way for the host and hostess to mingle with their guests and keep conversation flowing. Avoid anything too rich, sticky or difficult to eat.
For a more laid back gathering, try a bar food style buffet, with cocktail sausages, nuts, olives, crudités and dips.
Dos and Don'ts!
Do
have lots of glasses of varying size and style, washed, dried and ready to go.
Do make sure you have plenty of ice in the freezer.
Do have your drinks cabinet well stocked - you'll be needing lots of liqueurs, spirits, mixers and fruit juices.
Do ask close friends and family to bring a bottle if pricing up your party has brought you out in a cold sweat!
Do have a cocktail recipe book and follow the instructions to avoid wasteful and costly mistakes!
Don't just stick to cocktails - have a selection of wines and coffees to offer your guests too.
Don't have loud music at a 'proper' cocktail party - something classical and in the background is your best bet! If you're having a themed party, go for cheesy classic artists, like Barry White or Barry Manilow - or, like Beverly in Abigail's Party - the play set at a cocktail party - Demis Roussos!
Equipping Your Bar
Have look through a cocktail recipe book to get an idea of the ingredients for the most popular cocktails before you go shopping for your drinks. Your shopping list will probably end up including:
Gin, rum, brandy, whisky, vodka, tequila, and liqueurs. For the mixers, buy in cola, ginger beer, tonic water, fruit juice, grenadine, bitter lemon, angostura bitters and tomato juice. Many cocktails call for a 'dash' of something extra, such as Worcester or Tabasco sauce. Cocktail onions and olives will provide a finishing touch.
Impress your guests with a range of professional cocktail making equipment; check out online stores for vintage cocktail shakers, bar blenders and ice buckets! And don't forget to dress your glasses - invest in a salt rammer for your tequila slammers and martinis, and finish off your drinks with a kitsch umbrella or glass charm!
You might also like...