Decorations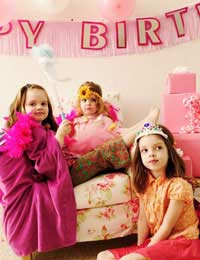 Remember the days when a packet of balloons and a reel of streamers was about the limit when it came to party decorations? Thankfully nowadays, we're absolutely spoilt for choice when it comes to adorning our party spaces - from outdoor lights to lifesize 'scene setters', whatever our party theme, there are props, tableware and accessories to accompany it.
Have Kerb Appeal
You know how estate agents say prospective buyers often dismiss viewing a house after driving past and assessing its 'kerb appeal'? Well imagine your party guests doing the same thing - judging how good your bash is going to be before they've even walked through the door! Start your party decorating at your front gate - even if it's just with some Happy Birthday balloons for a child's party, or a fitting prop for an adult do. During the winter months, use pretty outside lighting to light the path to your front door, and decorate your trees with fairy lights.
Set the Scene
Investigate party supply shops and internet sites for scene setters. These are large, temporary wall decorations available in a wide range of themes, for instance, wild west or tropical beaches. Room-roll is a massive, long plastic wallpaper-style sheet that you stick over your existing wall coverings (don't worry - it comes off easily afterwards!). Scene setter packs of individual decorations can then be layered on top - for a wild west theme these would include things like saloon doors and 'wanted' posters.
On a budget, similar 'scenery' can also easily be home-made - if you're a dab hand with a paint brush - or know someone who is - simply paint stage style scenery on large sheets of card or plywood and lean up against the walls.
Accessories
Your chosen accessories will depend largely on your theme, but there are some finishing touches that will enhance any party space. Little tea lights add a pretty, sparkly glow to rooms, and they are cheap enough to buy in large quantities to dot around shelves and ledges. Always use an appropriate holder to protect your surfaces, and keep well out of the way of children and pets. Flowers fitting to the type of party not only look beautiful, but fragrance the room too - think of your theme and what sort of floral display would work with it - roses for a valentine's bash, lilies and other 'funereal' flowers for a Halloween party etc.
Seasonal parties like Halloween and Christmas, are, obviously, easier to accessorise as all the items are readily available in the shops, but with a bit of imagination, it's easy to dress your room whatever time of year. Using the wild west theme as an example again, empty whisky bottles, Stetsons and toy guns and holsters would all be very easy and cheap to source, and strategically placed around your party space will add a brilliant effect. If you have a hard tiled or laminate floor, a handful of sawdust sprinkled over would add an authentic touch too!
So, there's no longer any reason to greet your guests with a slightly dodgy balloon arrangement and a stream of paper entrails - with a bit of imagination and a bucket load of creativity, your front room or conservatory can go from homely comfort to wild west saloon, winter wonderland, creepy crypt and tropical paradise within an afternoon!
You might also like...