Party Plans on a Budget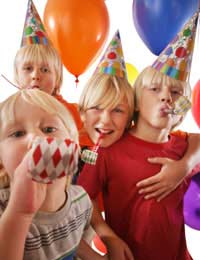 It's all very well laying down plan after plan for a party to end all parties but if your budget is currently languishing at zero, you're going to have to suss out bargains every step of the way!
Hall Hire
Hall hire prices can seldom be negotiated, especially in council owned community halls where the price is well and truly fixed. However, you might find that by holding your event on a week night instead of the much coveted Friday or Saturday, you could end up saving quite a bit of money. In commercially hired halls like hotel function rooms you might find you can negotiate a deal by using their caterers or perhaps buying a bulk quantity of their house wine. If you're prepared to risk it you could also net a bargain by booking at the last minute - risky, but could be worth it!
Invitations
Want fancy-pants caricature or cartoon style invitations but have nothing more than a fledgling idea and a wedge of A4 paper? Beg, steal or borrow the services of an art or graphic design student who'll design to your specifications at a fraction of the cost of a professional.
Food
If your budget could just about cover a portion of chips and a pickled egg, you might have to turn your party into a pot-luck event where every guest brings a dish. If you are tied to using in-house catering, be up front about your budget and find out what they could do for it, and don't be afraid to haggle particularly if you have booked at the last minute - they'll want to keep the booking and will be open to negotiation.
Entertainment
Professional entertainers cost big bucks, and if you are on a budget, it's unlikely you'll want to employ them. But there are ways around it:
Children
If you have children attending, face painting is always a huge hit and something that most adults can do with little practice. Face paints can be bought cheaply in most toy shops, and, once purchased will last for dozens of parties.
Mixed Groups
Karaoke is cheesy, fun and universally loved. Most stereo systems have a karaoke function, and karaoke CDs can be bought at bargain prices in supermarkets and discounts shops.
Games
Games like Twister always get a party going, and are great ice breakers. Oversized garden games like garden Jenga or Connect Four can easily be set up indoors for parties too. Ask around your guests and see what they've got - you'll most likely end up being spoiled for choice!
DJs
DJs cost the earth and the good ones will be booked up months in advance. Ask your family and friends if they have a budding disc spinner in their midst, or try the music department of your local college to see if any students offer themselves as DJs for parties. If all else fails, consign yourself to hiring the latest CDs from your library for non-stop, up to the minute tunes on the big night.
Decorations
Look online for heavily discounted party goods, like tableware, party bags and banners. Internet auction sites often have party supplies at below high street prices, with the added benefit of being delivered straight to your door. Trawl around 'pound shops' and cut price supermarkets for disposable cutlery, balloons and decorations at knock down prices. Ask around your friends for unused or unwanted party goods too - disposable tableware is generally bought in bulk for parties with a large amount often going to waste.
You might also like...