Planning Your Party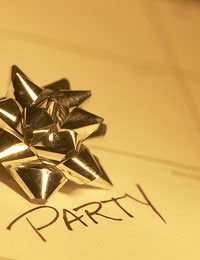 Every party needs a plan - whether it's just a few hastily scribbled notes stuck on the refrigerator or a whizzy bells-and whistles spreadsheet on the computer, you'll find things will glide along much more smoothly and fit effortlessly into place if you know what you're doing, and when you're supposed to be doing it!
Six Months Before
Book your party space. If you are after a popular venue, get in quick - some halls, ballrooms and function suites can be booked up months, even years, in advance! Have a list of second and third choices if your preferred venue is unavailable.
Book DJs, entertainers, musicians and photographers. But never book 'blind' - with photographers, asked to see their portfolio before you book, and ask for CD or DVD examples of musicians and entertainers at work.
Get all bookings confirmed in writing!
Decide on your theme (if any) and do lots of research for original ways to implement it.
Eight Weeks Before
Draw up a guest list and design/make/order invites.
Start looking around for 'props' if you are having a theme - check out charity stores and car boot fairs for one off bits and pieces!
Six Weeks Before
Send out invitations with a RSVP for two weeks hence.

Along with your invites, include: a map of the venue, a list of accommodation for those travelling to the party from outside the area (provide accommodation info in all price ranges, from B&Bs, to hotels and Travelodge's or arrange a block booking discount at a favoured hotel and refer your guests there).

Enclose a gift list if appropriate and any other necessary information (for instance, be very clear if the party is a surprise and shouldn't be mentioned in advance to the guest of honour!) If there is a fancy dress or a theme to the event, provide a list of costume ideas, maybe some inspirational websites and the addresses of local costume hire shops. Always make life easy for your guests!

Reserve your own fancy dress outfits if applicable - if you have a lot of guests all hiring from the same store, ask about discounts for group bookings.
Book hairdresser and beautician for morning of event.
Four Weeks Before
Order your cake and any other made-to-order food. Arrange for your cake to be delivered straight to the party venue to avoid transportation worries (though it would be a wise idea to have someone at the venue check it over on its delivery and report back to you!)
Buy decorations, party favours and tableware. Order helium filled balloons.
Two Weeks Before
Follow up any unanswered RSVPs. Phone around and confirm all deliveries and bookings!
Organise party clothes - put existing clothes in for dry cleaning, or shop for new.
Visit venue and check all is in order with the party room.
Book taxis to and from the party venue.
One Week Before
Finalise every arrangement! Pack party favour bags/going home presents. Box and crate up everything that is going to the party venue.
For parties at home, clear the freezer and do a big party food shop and have a spring clean.
The Day Before
Deliver everything to the party venue, or prepare your party room at home.
Lay out and dress all the tables, inflate balloons, put up decorations, defrost food, chill drinks and put all cutlery through the dishwasher.
Clear coat racks and hall cupboards ready to store guest's belongings.
Tie up all loose ends!
The Big Day!