How To Have More Confidence At Parties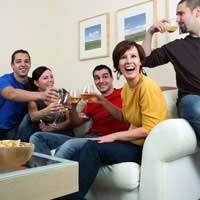 Just the very mention of the word 'party' can send shivers of embarrassment through the best of us.
Why is it that everyone else seems to have better fitting jeans, loads of amusing anecdotes and plenty of friends to share them with, while we arrive that bit too early or that bit too late and get completely tongue tied?
If you are feeling as though going to parties is close to torture, you have come to the right place.
Here, we will suggest ways to prepare for the party so you can put your best foot forward, ideas for conversation starters that won't make you blush and tips for dealing with common party characters.
Preparing for the Party
Firstly, this may sound obvious, but it can be terribly stressful if you get it wrong - make sure you know if it a fancy dress or themed party. It goes without saying that you would feel idiotic if you turn up in full Cher circa 1989 get up when everyone else is in skinny jeans, or indeed if you walk in the door in your party frock to find a whole host of vicars and tarts.
Secondly, check out who else is going - this can be a good source of preparation on so many levels - what are they wearing, how are they getting there, what are they taking with them? Ask around your friends and colleagues, look on Facebook or another social networking site to see who will be there. You may be able to arrange a meet up before hand or arrange to share a taxi.
Ok, so now you have a bit of the inside scoop, you can start to get ready. You could treat yourself to a new top or haircut and give yourself plenty of time to have a shower, put on makeup if you wear it and take a few deep breaths. You will probably be taking something with you - a bottle of wine or a few beers. If the party has a theme you could match it. Don't feel like you have to go over the top (a bottle of tequila is a cool but unnecessarily expensive house party gift) or indeed take the cheapest supermarket own-brand beer (you will look mean and tacky when you arrive and very tight when you put your rubbish on the kitchen table and get stuck into the good stuff).
At the Party
Having got to the party looking good and feeling good (aim to arrive with someone else, a good half an hour after it starts, unless it's a dinner party) it's now time to think about what you're going to say.
This is harder if you have arrived on your own and don't immediately know anyone, in which case - well done you for being brave!
You can either place yourself near the drinks or snacks (keep an eye on how much you're drinking though) or join the small, friendly looking group. Remember that most people like to talk about themselves, so you could start by asking how they know the host, or asking if they've had a good week. If you find yourself feeling lost for words, ask a question about something they have just said or ask what music or films they like.
You are likely to encounter the drunk, the bore or the letch and quite possibly all three at a particularly bad party. They can be dealt with by saying you need to go to the bathroom, you offered to help in the kitchen or your boyfriend has just arrived. They will soon move onto the next unfortunate guest and your carefully planned evening will not be ruined.
You might also like...