Considerations When Choosing Party Venues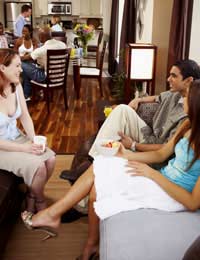 Deciding where to hold your party can be the cause of one of the biggest party planning headaches! It's all very well to want a live band, bouncy castle for the kids and seventy three guests - but are they all going to fit in your conservatory? Er, no!
Your venue needs to suit your purse, the theme of your party and the needs of your guests - so where do you begin in finding the perfect party space?
Making Lists
Make a list of all the things you definitely need from your venue, these could include: wheelchair access, doors onto a garden, a kitchen facility, a pretty backdrop for photos, a safe and secure environment for children and babies, space for entertainers etc.
Ring around local hotels, church halls, conference suites and town halls and request their brochure or a tour of their facilities. Don't forget that other public buildings often hire out their rooms too - think museums, schools, colleges and universities. Also check out country clubs, health spas, National Trust properties, stately homes, restaurants, pubs and clubs.
Short-Lists
Choose three or four venues that completely suit your needs and go and have a good look around. Take someone with your for a truly objective point of view! Does it still tick all the boxes? Think of all the things the brochure or hirer won't point out - the venue may well hold 300 people, but how big is the car park? Is there good access to motorway networks, major roads and public transport? How many loos are there? Will you be responsible for cleaning the room after use or is there a cleaner? What is the maximum capacity it can hold? Are there changing facilities in the loos for guests with small children?
What's Included
Ask for a detailed breakdown of what is included in your hire package. Will there be a member of staff on hand to assist you on the day of the event? Do they provide maps and information for you to send out with your invitations? What is the cancellation policy should something go wrong along the way?
Booking
Make sure you get your booking confirmed in writing, and phone a week or so before the event to double check everything is in order.
On the Day
How early can you access your venue to organise setting up, decorations and food? What is the locking up procedure at the end of the event - in many 'community' buildings like schools and church halls, you will be responsible for securing the building and returning the key to the custodian.
Partying At Home
Depending on the size of your home and the number of guests, a house party can be as slick and swish as an event in a hired venue. How far you go with decorating, catering and entertainment is a matter for you and your purse and you will not be restricted by all the rules and regulations of a hired space. Decide in advance what parts of your house are 'party zones' and which are off limits and consider how you are going to organise your rooms. Clearing breakables, clutter and unnecessary furniture will give you a bigger space and peace of mind. 'Visible' barriers will stop people going where you don't want them to - a large pot plant or a chair in front of patio doors if you don't want people wandering out in to the garden, or a baby-gate on the stairs if you want to keep your upstairs rooms out of bounds!
Wherever you choose to hold your party, always remember that your guests will never notice all those minute bug bears that you do - so on the day, relax and let the good times roll!
You might also like...