Considering Lighting When Planning a Party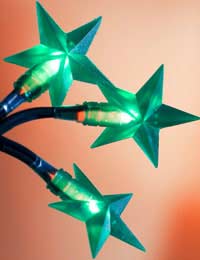 When planning the bash to end all bashes the lighting might not be your first, or highest priority, but it's a finishing touch that can really make all the difference!
If you are hosting your party at home, the right lighting can not only set the 'mood' but also hide a multitude of sins, from less than pristine stair carpet to any rogue cobwebs lurking in the corners!
Lamps
The simplest way to softly light your home for a party is to turn out all the ceiling lights or turn down the dimmer switches and illuminate each room with strategically placed table lamp instead – an effective and very cheap solution!
Candles
Candles are of course de rigeur for dinner parties, but before you light any old waxy stump and stick it in to a used wine bottle, consider brushing up on some basic candle know-how:
Do buy good quality candles – cheap ones will smoke and burn down quickly.
Do not use scented or aromatherapy candles in the dining room or at the dinner table.
Do set candles in front of mirrors or in glass candlesticks for a really pretty, twinkle effect.
Do take care when using near floral arrangements and other trimmings.
Tea lights placed in a bath or basin can create a beautiful effect in your cloakroom or bathroom, and, if safe and practical (no children/animals/over hanging textiles or similar) can provide a stunning light display on a staircase with a single light on each tread.
Fairy Lights
No longer consigned to Christmas, fairy lights are now used to brighten homes all year round, and come in a multitude of designs, from flashing, flickering, disco styles to soft, pastel flower garlands with delicate pale bulbs. For children's or teens' parties, the flashing, disco variety dotted about the house will go down a storm, whilst laid back adult events will suit more sophisticated, low level lights that match and enhance your existing décor.
Disco and Effect Lights
If flashing Christmas tree style lights don't quite cut the mustard with your demanding tween or teen, or suit the type of party you are organizing, hiring special lighting sets could be an option – full rigs can be hired relatively cheaply and will set your party room ablaze with a cascade of vibrant beams. Some professional party lights are sound activated, meaning the colours warp and change with the music!
Laser Lights
Nightclub style laser light shows are perfect for marquee or function room based parties – even the most basic laser package will offer multi coloured geometric patterns and some models give unlimited images that are manually or sound activated for a stunning floor show!
Mirror and Disco Balls
Essential lighting kit for a retro disco feel – if space permits, get yourself a mirror ball to really set your dance floor ablaze with light and shimmering colour! Mirror balls also work really well if you are using them in conjunction with a laser light or disco style light show!
So, ambient, mood enhancing lighting needn't be an exercise in re-wiring, or another expense to add to your party to-do list – whether you strategically dot a few lamps around the lounge to cast gossamer shadows, or hire a whole lighting rig in to guarantee an electric buzz on the dance floor, the right look can make a huge difference to your party atmosphere without breaking the bank!
You might also like...